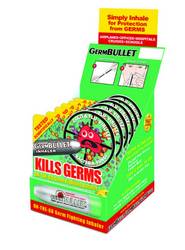 For anyone who is traveling or being visited, GermBullet helps protect you so you can enjoy the fun during Spring Break
Boca Raton, FL (PRWEB) March 14, 2011
Baby Boomers love the kids but not the risk of respiratory illness. If the grand children live far away and airplane travel is necessary, then the risk of illness could be much greater. Thanks to re-circulated air and the crowded quarters, passengers are 100 times more likely to catch a cold. That risk is increased for those with weakened immune systems.
"For anyone who is traveling or being visited, GermBullet helps protect you so you can enjoy the fun during Spring Break," said Jim Whidden, spokesman for Flu & Cold Defense, LLC, makers of the GermBullet nasal inhaler. "Hand washing or sanitizing is great, but so often, we unconsciously touch our eyes and nose and oops!"
Some grandparents use Airborne® to help support their immune system; others use products containing EpiCor® to balance their immune system. Dietary supplements such as these may not be enough when the immune system is overwhelmed with germs. GermBullet (http://www.GermBullet.com) has been designed to reduce the number of germs entering your nose so as to give your body's defense mechanisms a better shot at combating germs.
Pocket-sized, easy-to-use GermBullet nasal inhaler is designed to provide extra defense against illness-causing bacteria, cold and flu viruses. Simply inhale the vapors to coat the mucosal lining of your nose. The GermBullet nasal inhaler is available at leading drugstore chains and airport convenience shops. Germ Bullet contains a scientifically proven, proprietary broad-spectrum germ-fighting formula of 100% organic ingredients with a 25 year history of safety. It contains no alcohol, zinc, preservatives or synthetics.
To learn more about GermBullet, please visit http://www.GermBullet.com.
About GermBullet
GermBullet broad-spectrum Inhalation Formula of 11 botanicals has been scientifically proven in-vitro to help protect against germs that may cause cold and flu, as well as illness-causing bacteria, harmful fungus and mold which may cause illnesses. To learn more about these studies, visit http://www.germbullet.com/medicalreferences.
These statements have not been evaluated by the FDA. This product is not intended to diagnose, treat, cure, mitigate or prevent disease. GermBullet is a product of Flu & Cold Defense, LLC.
EDITOR'S NOTE: To arrange an interview with a representative of GermBullet, or to obtain more information about GermBullet, please contact Nancy Trent or Pam Wadler at 212-966-0024 or send an email to pam(at)trentandcompany(dot)com.
# # #