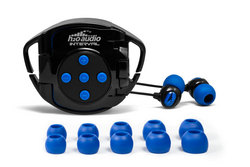 Training with music is such an important motivational tool. I've been using the Interval to improve my workouts for many years, and this new generation is so small and streamlined, you can't even feel it on your head! - Natalie Coughlin
San Diego, CA (PRWEB) March 15, 2011
H2O Audio, the leader in high-performance, waterproof, sweatproof sport headphones and accessories, today announced its latest generation of the Interval Headphone System. Designed specifically for swimmers and triathletes, the Interval 4G creates a no hassle way of using the 4th generation iPod Shuffle to bring your own personal soundtrack to your swim workout.
Now in its 4th generation, the Interval is better than ever! Smaller, easier to use and integrated with the latest Surge 2G headphone technology, the Interval headphone system is the only way to bring your iTunes® files to your swim. Designed to quickly attach to your goggles, the Interval contains your own personal sound system entirely on your head, delivering crisp, clear sound while keeping your arms free of wires. Paired with an Interval hat or visor (sold separately), the Interval makes an outstanding running solution as well.
"I've really enjoyed working with H2O Audio to develop the Interval," said World Champion Swimmer and H2O Audio Ambassador Natalie Coughlin. "Training with music is such an important motivational tool. I've been using the Interval to improve my workouts for many years, and this new generation is so small and streamlined, you can't even feel it on your head!"
"The Interval has revolutionized swim workouts for so many. We continually hear how swimmers and triathletes increase their workout length and productivity by bringing music into the water with them, so we're excited about the newest generation of this product," said Tom Kampfer, CEO of H2O Audio. "The 4th generation Interval boasts the best functionality and sound quality in this product to date. Combined with our hat and visor options, it's great for any athlete who wants to bring music and motivation to their workout, without the hassle of long wires and with the added protection for their shuffle from rain, sweat and moisture."
All H2O Audio products, including the Interval 4G Headphone System, are precision engineered and individually tested to ensure 100% waterproof, sweatproof, weatherproof capabilities. When paired with H2O Audio Interval running hats and visors, the Interval creates an easy, waterproof, wearable music solution for almost any activity. The Interval 4G is available now starting at $99.99 at http://www.h2oaudio.com, Amazon.com and other retailers.
About H2O Audio:
Established by athletes for athletes, H2O Audio is the leading provider of high-performance waterproof and sweatproof sport headphones and accessories for active people around the world. The company's products offer a complete waterproof solution and enable people to enjoy music during any athletic pursuit. H2O Audio products are available on-line direct as well as through Amazon.com, Apple Stores, Best Buy, The Sports Authority, and surf/sport specialty stores worldwide.
APPLE, IPOD, ITUNES AND SHUFFLE ARE REGISTERED TRADEMARKS OF APPLE, INC. H2O AUDIO IS A REGISTERED TRADEMARK OF H2O AUDIO, INC. ALL OTHER REGISTERED OR UNREGISTERED TRADEMARKS ARE THE SOLE PROPERTY OF THEIR RESPECTIVE OWNERS.
# # #