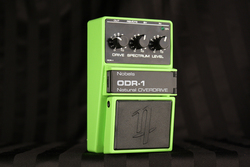 the best overdrive pedal on the market today
Portland, OR (PRWEB) March 13, 2011
ProGuitarShop.com is proud to announce the addition of the Nobels ODR-1 overdrive pedal to their catalog. The Nobels ODR-1 is a transparent, tube amp-like overdrive pedal that has developed a cult-like status in the guitar effects industry. While this mysterious pedal has been elusive at best throughout the years, it has been regarded by many Nashville session players as the go-to pedal for all styles of music.
Jerry Donahue of the Hellecasters has declared the Nobels ODR-1 as "the best overdrive pedal on the market today" further increasing guitarists' interest in the pedal. Now available exclusively at ProGuitarShop.com in the USA, the Nobels ODR-1 is back in its original color and form built to the original specs of the vintage ODR-1. With a familiar look and feel, the Nobels ODR-1 is a simple pedal to operate but provides anything but a simple tone.
The unique Spectrum control not only affects the high frequencies but also the low mids for some powerful tone shaping capabilities. This allows the Nobels ODR-1 to get any tone from a transparent clean boost to saggy bottom blues tones to tight, screaming rock tones. The Nobels ODR-1 represents overdrive at its best and PGS is proud to be able to bring this legendary pedal to the masses.
# # #