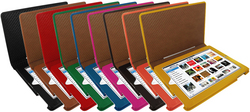 Upon your visit to Cases.com you will experience easy navigation, ultimate selection, great customer service and quick checkout
Aurora, CO (PRWEB) March 14, 2011
Last year Apple set a new standard in multimedia and entertainment with the introduction of the iPad. After millions of units sold, they are out-doing themselves again with the unveiling of another amazing tablet in 2011: The iPad 2. Like the predecessor, the new iPad 2 has already got many people dishing out to get the newest, coolest gadget. Much like Apple set a standard in high end electronics, Piel Frama set a precedent for luxury protection for the iPad. Last year Piel Frama's line of iPad cases were a huge hit. In fact, "they are still our biggest seller for the iPad," Alex German, marketing director for Cases.com, mentions. (http://www.cases.com)
Last year's Piel Frama iPad cases came in several lines including the Magnetic, Snap, and Cinema. All serve the same basic purpose: protect the iPad while surrounding it in beautiful and seamless Spanish leather. Much like the original Piel Frama iPad cases, the new and enhanced iPad 2 cases (http://www.cases.com/pf531.htm) will feature easy access to all ports and functions of the iPad 2 including the camera, volume control, power control, dock port, and of course the incredibly responsive 9.7 LED backlit multi-touch screen. Finally, the best part about the case is that when you're done using your iPad 2, you simply close the front magnetic cover like a book to protect the screen and iPad. The corners are also very well protected in case of any accidental drops.
Each Piel Frama case passes strict quality control requirements and is expertly hand-made by a skilled leather craftsman. Unlike traditional cases, the expansive selection of appealing colors available in the new Piel Frama cases gives customers the flexibility to personalize their iPad 2. The Piel Frama Magnetic case for Apple iPad 2 will be available in many colors including black, tan, red, green, blue, fuchsia, brown, orange, and yellow in the standard cow-hide leather as well as color options in crocodile and ostrich pattern leathers. (http://www.cases.com/pf531.htm)
The grown up, more mature brother iPad 2 now has a neat function where it automatically turns the screen off when a magnet is within a specific range. Piel Frama plans to incorporate the iPad's new 'sleep' function into their future cases. Prepare for a revolution in cases!
Having strong relationships with premium case manufacturers from all over the world, Cases.com has been able to provide an enormous array of beautiful cases of various colors, styles and materials while passing down the savings to the consumer. Since they warehouse inventory at their Colorado, USA headquarters, Cases.com is able to provide fast delivery throughout the states as well as worldwide. (http://www.cases.com)
"Upon your visit to Cases.com you will experience easy navigation, ultimate selection, great customer service and quick checkout. We believe that if you are spending money with us, you deserve only the utmost customer service that we can provide. We take your business very seriously. Our site is constantly being updated to bring your device the latest protection and style, so you can trust us to help you accessorize your digital life!" Alex German concludes.
# # #