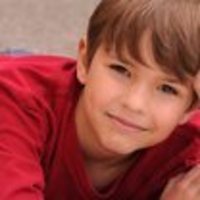 "I still can't believe that my son, Justin, is where he is right now and about to star in a movie," said Terra Howell, Justin's proud mother. "I had no idea nine months ago this could happen and it's all because of Celebrity Actors Camp"
Los Angeles, CA (PRWEB) March 12, 2011
Celebrity Actors Camp is proud to announce yet another success story resulting in a Celebrity Actors Camp child booking a starring role in an upcoming Hollywood movie. Eleven year old, Justin Howell has been cast to play, Mikey Amato, a leading role in Susan Cocoran's newest Hollywood comedy Ira Finkelstein's Christmas http://ira-finkelsteins-christmas.com/ . The movie with Justin Howell will film in Washington State and will be released in November 2011 during the competitive holiday season.
The film will center on the characters of Ira J. Finkelstein happens to be obsessed with the idea of a true white Christmas up north and Mikey Amato (Justin Howell) who is from the north and would love a warm and sunny Christmas in Florida. Ira has seen every Christmas movie ever made and his dreams are filled with reindeer, sleigh rides and snow. The only problem is that Ira is Jewish and fears that Christmas will pass him by. So flying unaccompanied to visit his grandparents in Florida, Ira swaps tickets with Mikey (Justin Howell) who happens to be another 11-year-old on his way to Christmastown, WA to visit family but wants to play tennis in Florida instead. The swap between Ira and Mikey is successful and film follows both of their adventures.
"I still can't believe that my son, Justin, is where he is right now and about to star in a movie," said Terra Howell, Justin's proud mother. "I had no idea nine months ago this could happen and it's all because of Celebrity Actors Camp"
For years, Justin Howell has been asking his mom when he was going to be on television and Terra Howell would always respond that she didn't know how to get him on television. But in April 2010, they discovered Celebrity Actors Camp and Justin's dream came true. Since then Justin has trained under Celebrity Actors Camp's Adrian R'Mante and several celebrity teachers including Celebrity Actors Camp cofounder, Phil Lewis, throughout various camps in 2010 and 2011. Justin booked his first commercial with T-Mobile in October 2010. Justin Howell is currently represented by Colleen Bell from Model and Talent Agency - Seattle, WA / L.A. Talent and managed by Alexander's Talent.
Adrian R'Mante, who can currently be seen on the Disney Channel and Saturday mornings on ABC playing the role of Esteban on the hit television series The Suite Life of Zack and Cody, offers a six week celebrity acting camp taught by celebrities in cities across the United States and Canada.
The Celebrity Actors Camp gives young actors a head start on their lives by helping them develop leadership and teamwork skills, self-confidence and the ability to earn income all in the entertainment industry while having a blast just learning how to act. Graduates of Celebrity Actors Camp have appeared in hits including NBC's Parenthood, Alice in Wonderland with Johnny Depp, and Modern Family to name a few. For more success stories and upcoming camps in a city near you, visit http://www.celebrityactorscamp.com.
For more information on Celebrity Actors Camp please go to http://www.celebrityactorscamp.com
###