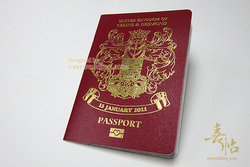 It is possible to combine the passport idea with the air ticket design together. Your guests will certainly be amazed.
New York, NY (PRWEB) March 14, 2011
It is very common for couples to consider a destination wedding nowadays. This can make the ceremony more memorable. In order to help couples to announce the event in a special and unique manner, 983 wedding, a creative wedding invitation design company, has designed a new invitation card for couples who are going to have a wedding overseas.
As a matter of fact, 983 wedding has released a few designs which are catering for destination wedding. The design of an air ticket is one of the best options to denote the idea of having a wedding overseas. A lot of couples will go for this option while they are planning for the invitation cards.
In order to help brides and grooms to find the best and most suitable invitation cards, 983 wedding has designed the passport wedding invitations. Jerry Leung, the chief designer of the invitation company says, "Of course you will need a passport when you are traveling to other countries. This is why we decided to create this new design." Yes, it is very true that you will need to bring along with your passport before you head to the airport. Leung continues, "It is possible to combine the passport design with the air ticket design together to make them a set of unique invitations. With such combinations, the guests will certainly be amazed."
In fact, it is not uncommon to see passport designs in the market. What makes the design of 983 wedding special is that they choose the paper and materials very carefully such that the invitation will look like a real passport at the first glance. Special attention is also paid to the binding method. The binding method adapted is very similar to the method used to bind a real passport.
Since 983 wedding is specialized in custom made wedding cards, there is no such thing as a fixed template. As a result, the design of the passport wedding invitation is very flexible. Couples can customize the design of in so that it can fit the event the most!
There are a few issues that have to be considered when planning for the destination wedding invitations. To make sure that the guests will have enough time to reply, couples have to order early. This is especially true when it comes to the passport design. It will take some time before they are all printed and delivered. Brides and grooms are recommended to order at least two months before the invitations are sent to the guests.
The wedding invitation will set the tone of a wedding. Be sure to check the new passport wedding invitation design and it can make the event more special.
For more information, contact: http://www.983wedding.com/
###