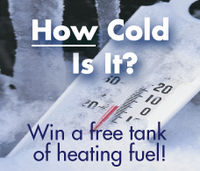 Portsmouth, NH (PRWEB) March 15, 2011
Irving Energy, provider of heating oil, propane, and diesel fuels to homes and businesses in Atlantic Canada and Northern New England, has been receiving some great answers the question "How Cold Is It?" Entrants can still submit their best answer and one lucky winner will be awarded a free tank of heating oil or heating propane. Act now and don't miss out.
"We have received a wide range of great responses to this question," said Andy Lynch, Irving Energy Residential Marketing Manager. "From funny to poignant, the submissions have shown that this very cold winter has had a deep impact on our customers. We'd love to hear more!"
The "How Cold Is It" contest is seeking the most creative, innovative, and unique entries on how people have survived the perils of this winter. The contest remains open for submissions until April 11, 2011. Residents in Irving Energy's service areas are invited to share their tales by posting their entry on the Irving Energy blog.
TO ENTER:
Go to Irving Energy and click on the front page icon or go to How Cold Is It Contest. Simply submit an answer to the question "How Cold Is It" in the form of a blog entry.
A full disclosure of rules and regulations can be found on the Irving Energy blog.
About Irving Energy:
Irving Energy offers great heating oil, propane and diesel prices and at the same time, offers reliable service and equipment installation and repair. Since 1924, we've been supplying our customers with the highest quality fuels available and excellent service in New Hampshire, Maine, Vermont, New Brunswick, Nova Scotia, Prince Edward Island, and Newfoundland. For more information, visit Irving Energy.
# # #