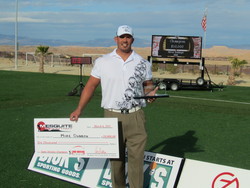 "These wins further validate Krank's innovative driver technology and our commitment to manufacture the longest hitting and most consistent drivers in golf", said Lance Reader
Tempe, AZ (PRWEB) March 14, 2011
Following its Open, Senior and Legends divisions world championship wins at the 2010 RE/MAX World Long Drive World Championships last November, Krank Golf's Rage Driver sweeps the field at the Long Drivers of America season opening tour event, the 'Mesquite Shootout', held March 6, 2011.
Held on the Long Drivers of America's World Championship Grid in Mesquite, NV, the Mesquite Shootout, with its $30,000 purse and 48 man international field, marks the season opening professional tour event for the longest hitters in the world.
Krank's Rage was in the hands of 2007 World Long Drive Champion 'Big Mike' Dobbyn of Henderson, NV as he defeated fellow Krank Rage hitter Landen Gentry for the victory. Krank Golf's Rage Driver was the club of choice for the 1st, 2nd, 3rd, 4th, 5th, 7th and 8th place finishers. Dobbyn's longest ball of the event flew some 409 yards.
"These wins further validate Krank's innovative driver technology and our commitment to manufacture the longest hitting and most consistent drivers in golf," said Lance Reader, founder and President of the Tempe, AZ based Krank Golf. "We attribute much of the success of our driver technology to the knowledge that we gained in our many years of working with the long drive community. We wanted to build the best drivers in the world so we focused on the longest hitters in the world."
The 47 year old Reader is no newcomer to the world of longdrive. At the 2010 world longdrive championships he placed 4th in the world in the 45 and above senior division. In 2004, at a long drive tour event in Albuquerque, NM he hit a ball 526 yards, which was, at that time, a record for the longest ball ever hit in a professional long drive event.
The RE/MAX World Long Drive Championship, powered by Dicks Sporting Goods and run by Long Drivers of America, features golfers from more than 15 countries, who vie for a purse worth over $450,000. The RE/MAX World Long Drive Finals airs each year during the Christmas season on ESPN and ESPN2. More than 10,000 competitors attempt to qualify for the RE/MAX Finals with qualification events held at over 200+ sites around the world.
The Krank Rage driver is available in lofts from 6* - 12* and is available with Krank Golf's exclusive Fujikura Diesel shaft. Krank drivers are available online at http://www.krankgolf.com and at selected retailers in North America, Europe and Asia.
All Krank drivers are USGA conforming. Krank Rage driver MSRP $349.
To learn more about Krank Golf and its Rage driver go to http://www.krankgolf.com or call 480-699-5041.
# # #