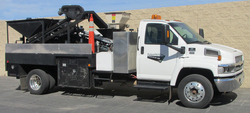 Las Vegas, NV (PRWEB) March 14, 2011
Phoenix Industries, a leading equipment and technology provider for the paving industry, has announced they will be exhibiting there new PelletPAVE™ & PelletPATCH™ materials at the up-coming ConExpo in Las Vegas, March 22 - 26, booth S-560
This revolutionary new patented material is a matrix of asphalt cement and modifiers produced in a pelleted free-flowing form that is transported and stored at ambient temperature until needed for use. This environmentally friendly design saves huge amounts of energy normally expended to keep asphalt cement hot around the clock. The unique form of this material also eliminates most of the hassles generally associated with blending, storing and transporting of conventional modified asphalt binders.
To compliment the introduction of the PelletPATCH material, Phoenix Industries will also be exhibiting their Model MP 200 mobile pothole patching unit. This is a bed assembly that is designed to fit a standard cab & chassis type truck. The MP 200 is a PLC controlled, self contained unit supplied with a diesel generator, air compressor, heated tack tank, PelletPATCH feeder and a complete aggregate feed, drying and mixing system. Everything a road agency or contractor needs to produce true modified hot mix asphalt right at a repair site.
With these latest environmental friendly introductions, Phoenix Industries is continuing as a leading innovator for providing solutions for the fast growing green movement in the road construction industry.
For more information call 702-893-4000
http://www.PhoenixIndustries.com
# # #