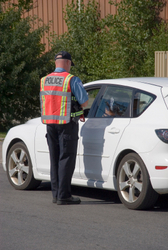 "We believe that reaching out to the public through this website will help deter people from driving and drinking and save them from the long lasting affects of a DUI arrest or DUI-related accident," said Thomas Wallin.
Irvine, CA (PRWEB) March 15, 2011
As police departments throughout California continue to crack down hard on drunk drivers, more drivers will be stopped at roadside sobriety checkpoints than ever before. The information about sobriety checkpoint laws and locations provided by OC DUI Checkpoints is a valuable tool in preventing driving under the influence (DUI) in Orange County.
According to statistics by the National Highway Traffic Safety Administration, on St. Patrick's Day 2008, 37 percent of the drivers and motorcyclists involved in fatal crashes had a blood alcohol content (BAC) of .08 or above. In an effort to prevent such fatalities, police will be conducting sobriety checkpoints across Orange County on St. Patrick's Day.
Many drivers are not aware that California DUI law outlines specific guidelines that govern the operation of sobriety checkpoints. In addition, all OC Sobriety checkpoints must be publically announced, generally via a police department press release.
OC DUI Checkpoints gathers sobriety checkpoint information for Orange County and makes it easily accessible to the public. The information is compiled so that drivers can make an informed decision before drinking and getting behind the wheel. Mr. Wallin also uses Twitter to share the times and locations of DUI checkpoints throughout California.
District attorneys, police officers, and even officials at Mothers Against Drunk Driving have all voiced their approval of such services. They hope that individuals who wish to avoid DUI charges will call a cab or find another ride home rather than risk a DUI arrest.
Thomas Wallin has earned a reputation for his expertise in California DUI law and for providing comprehensive California DUI defense resources. His website California DUI Guide is a leading authority on DUI in California and provides a wealth of knowledge regarding California DUI laws, the DUI criminal process in California, DUI sobriety tests, DUI checkpoints, DUI accidents, and many other DUI-related topics.
To learn more about Orange County DUI checkpoints, please visit OC DUI Checkpoints and follow DUICheckpointCA on Twitter.
About Thomas Wallin: Thomas Wallin is a respected authority on DUI laws in California. For over a decade, he has provided aggressive and professional representation to those accused of DUI. Mr. Wallin has knowledge and experience in all aspects of a DUI case, including sobriety checkpoints.
###