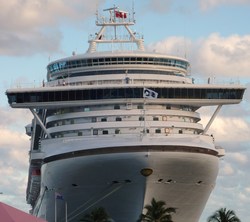 Add a quote"As an industry, we are very interested in outreach and volunteerism," shared Lanie Fagan, director of communications for the Cruise Lines International Association. "Every effort makes a difference."
Lodi, CA (PRWEB) March 17, 2011
Bill and Cathleen Huckaby from California have created a non-profit charity that links future cruisers with well-researched charities on the islands of St. Thomas, Tortola, Antigua, St. Lucia, and Barbados. Cruise passengers ages 12 and above can choose to help with service projects in any or all 5 ports. Salvation Army, Habitat for Humanity, Red Cross, Environmental groups and Animal Shelters are just a sample of 20 choices available for volunteers that will last 4 hours each day.
A "Trial- Run Bon-Voyage" cruise will take place April 17-24, 2011 on the Caribbean Princess Ship departing San Juan Puerto Rico, for 7 days. Volunteers are asked to help at 2 of the ports they personally choose. Singles, couples, families, youth groups, as well as corporations have all expressed interest to get 'on board' this new wave of cruise 'voluntourism'. Deep-seated joy by helping the less-fortunate blended with immersion in local culture creates this win-win cruise vacation.
Pre-schools, thrift shops, elderly day-care centers, recycle plants, animal shelters, building projects,and even a donkey sanctuary will utilize volunteers compassion and talents. Each facility has been researched, and are within 20 minutes of each Islands' port for easy access via walking or cab ride.
Cruise Passengers from ALL cruise lines can help in any number of island service projects. Complete arrangements are made PRIOR to ships departure utilizing the website http://www.hopefloats.org which highlights pictures, contact numbers, and detailed descriptions of each organization.
Future cruises will arrive each weekday ready to assist hungry children, exhausted parents, overwhelmed care givers, neglected animals, and understaffed groups each day a ship is in port. Back on-board ship, they will see the community they assisted aglow in the sunset as they continue their voyage.
Hope Floats will launch full-time in the Fall of 2011, and has future plans to expand to cruise ports world-wide. For more information or to schedule Bill and Cathleen Huckaby (founders) for an interview, please call (209) 747-9641, or contact them at http://www.hopefloats.org.
# # #