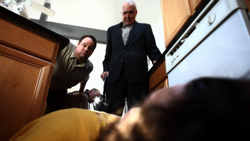 This isn't Oprah's book club.
Chicago (PRWEB) March 15, 2011
The new comedic web series, 'Guys Book Club,' launches today taking a comedic look into the lives of six disenchanted married men attempting to recapture their manhood by using a fictional 'book club' as an excuse to get away from their wives. Adolescent insanity and hilarity ensues in this funny, fast-paced, and free online web series at http://www.guysbookclub.tv.
Launching today are the trailer and first three episodes of this unflinching 9-episode "Skit-Com." A new episode will release each Tuesday for the next six weeks through April 19. The total running time of all nine episodes together is 24 minutes, about the same length as a network sitcom.
"It's sort of 'Curb Your Enthusiasm' meets 'Pulp Fiction,'" says writer and director George Zwierz. "It's definitely a dark comedy. One minute these guys are discussing politics over some Big League Chew and the next they're plotting the demise of one of their wives using Monopoly pieces. This isn't Oprah's book club."
Legendary news anchor and documentarian Bill Kurtis has high praise for the new web series. "If comedy was news, 'Guys Book Club' would be the top story," says Kurtis.
Produced and set in Chicago, 'Guys Book Club' was filmed with an all Chicago cast and crew by Purple Stuff Productions, Inc. The cast features Dean Hill and Chris Meister both of whom can be seen on the FOX TV series, "The Chicago Code."
"All the guys in the book club bring a likable irreverence. They're the type we all know, and I think that will appeal to both male and female audiences," adds Zwierz. "It's just that some of their warped views and precarious judgments lead them into a myriad of uncomfortable situations. But that's the fun of it."
Zwierz says he couldn't be more thrilled with his ensemble cast. "These guys are some of the funniest actors and performers in Chicago. They truly brought the characters to life," Zwierz said. "Plus, I see Chicago itself as one of the characters. I want the audience to get a true sense of Chicago from an insider's perspective. I think what people will see is an authentic view of Chicago. Both the city and the hard working people."
The 'Guys Book Club' crew is hoping to secure sponsorships or investors to fund a Season 2. Zwierz hopes to build on some of the initial enthusiasm and support he's received. "So far the reception has been nothing short of amazing, people are really getting behind it. My hope is that we'll see the series take off and maybe even get some athletes or celebrities involved in future episodes. I'm looking at you Jay Cutler…it's already written."
EXECUTIVE PRODUCER, WRITER/DIRECTOR
George Zwierz
Founder of Purple Stuff Productions Inc., his editing career began in Los Angles
cutting Trailers and Making-Of Featurettes for the Major Studios. Currently based in
Chicago, most of George's time is spent cutting TV Shows for The History Channel,
Discovery, CNBC, amongst others. His independent pilot LA LA LAND won the
Chicago Independent Reel Shorts Festival.
About Purple Stuff Productions, Inc.
Purple Stuff Productions, Inc. is production company based in Chicago, IL that specializes in the Production of Film, Television, and Web content. Purple Stuff Productions is owned by George Zwierz, a freelance editor cutting shows for networks such as The History Channel, Discovery, and CNBC. Within recent history, Purple Stuff Productions has won the Chicago International REEL Shorts Film festival with its independent sitcom La La Land, and taken home an audience choice award for Two Days Notice. To contact Purple Stuff Productions, please visit guysbookclub.tv.
###