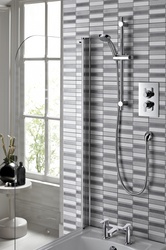 (PRWEB) March 15, 2011
Bristan are pleased to announce three new products they have recently launched on their web site: the Carre thermostatic shower, the Nero shower valve, and the Orta line of taps. If you have not yet seen these items, they are really worth serious consideration to refresh your bathroom design. Here are some of the very best key features and benefits of each of these three appealing products:
The new Carre thermostatic shower is the perfect mixture of eye appeal and functionality; combined with a great look with thermostatic control and a nifty Fast Fit system. Featuring a contemporary design with a rigid riser, fixed shower head and separate handset with rub clean nozzles, the Carre thermostatic shower incorporates a pre-set 38 degree C safety stop which can be over ridden.
The Fast Fit system makes installation a simple task. It can be used on any surface and simply fits over the exposed pipework to create a water-tight seal and a rigid fixing for the shower valve, saving lots of time that would usually be spent trying to fix the back of the value directly onto the pipes. The kit is also supplied with a shroud to create a neat finish. With 150mm centres, the Carre bar shower is ideal for replacement. It also comes with a five year guarantee and the backing of Bristan's technical support team and Bristancare; the company's dedicated after care service.
Secondly, the new Nero shower valve has been launched to coordinate with its existing range of Nero taps and mixers. With it's easy to fit use, the Nero valve has smart, modern styling with rectangular concealing plate and ergonomic peg-style controls for flow and temperature. As a valve only product, it can be matched to any kit or fixed head shower. This product has a five year guarantee as well.
Lastly, the new Orta line of taps are Bristan's newest addition to its value range of taps and mixers. Orta will be a hit with those looking for a stylish product at an affordable price. With it's easy to use functionality; the Orta range includes basin and bath taps, basin mixers, bath filler and bath shower mixers. All products have a contemporary ergonomic single lever design and are suitable for use with low pressure systems. Most products in the range also feature durable metal back nuts. Like all chrome taps and mixers from Bristan, Orta comes with a five year guarantee and the backing of Bristan Care.
Bristan can offer you a functional stylish new range of bathroom products along with the quality and service. Ergonomic, attractive designs, ease and durability when replacing or installing a product with outstanding support is all part of the Bristan experience.
To find out more information on our complete range of bathroom taps, showers and accessories visit us at http://www.bristan.com or call us on 0844 701 6273.
###