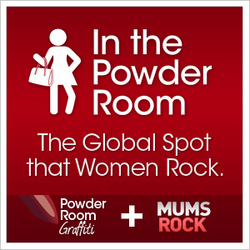 New York, NY (PRWEB) March 14, 2011
The website formerly known as PowderRoomGraffiti is shaking things up in the world of the world wide women's web. With a major redesign and rebrand, the site has also just completed the acquisition of UK-based MumsRock.com, a critically acclaimed parenting site, to widen its already robust global content offering.
In the Powder Room, (http://www.inthepowderroom.com) launched March 9th with a newly refined editorial offering, making it the premier social media and entertainment space for women who want to share their stories, reviews and ideas with a global group of like-minded individuals.
In the Powder Room provides a meeting place for women to truly exchange their wants, likes, desires, trials and tribulations in an open and honest forum. With the typical reader leaving the 18-34 demographic behind, the site's editorial focus is on the essence of being a grown up woman in a connected world.
Recognizing that approximately 81% of all women who make up this demographic are mums (or moms depending on your regional affiliation), In the Powder Room has addressed the needs of its audience who are still actively parenting by completing a transaction to acquire the edgy and irreverent UK-based MumsRock.com. This acquisition will round out the overall content offering and expand the conversation, a move that will be further energized by Gigi Eligoloff, founder and CEO of MumsRock.com, joining the In the Powder Room team as Editor-in-Chief with responsibility for site-wide editorial decisions.
"This is a very exciting time for all of us at In the Powder Room," said Johno Morisano, the site's co-founder and CEO. "Not only are we launching a completely redesigned site with an expanded and refined content offering, but the name change is in anticipation of new product offerings rolling out over the coming months."
Diane Hayman, Chief Product Officer, continues, "The addition of Gigi and MumsRock brings an extra, valuable dimension to the site. Our combined audiences are going to be absolutely thrilled and enthralled, with more reasons to visit us every day."
Eligoloff adds, "Johno and Diane, have built something really special with this site and I'm sure combining our efforts will only add more authenticity to an already powerful, edgy and exciting dialogue. Women really do 'Rock' and essentially that's what In the Powder Room is all about."
Morisano concludes, "We're very excited with the state of our content at this point in our life cycle and proud of the global community we have built which actively contributes to the discourse. Our goal is to continue to truly empower women the world over - people should keep an active eye out as this is only the beginning of the exciting things that we have on the launching pad for 2011."
About PRG Media, Inc. and In the Powder Room
PRG Media, Inc. (PRG), the parent company of In the Powder Room, was founded by US investor and entrepreneur Johno Morisano and former London City executive and blogger Diane Hayman in 2009.
In the Powder Room connects women in a social environment that mimics the conversations they have in their female-only settings - no topic or issue is ever off limits. PRG is headquartered in New York City with its editorial efforts centered in London.
For more information contact Johno Morisano at Johno@inthepowderroom.com or US number +1(212) 995-2038.
###