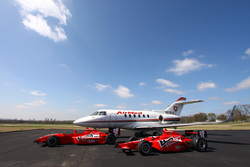 It gives INDYCAR great peace of mind knowing we can turn to AirMed's world class operation.
Birmingham, AL (PRWEB) March 23, 2011
Award-winning air ambulance company AirMed International announced today it has become the Official Air Ambulance of INDYCAR, the governing body of the IZOD IndyCar Series and Firestone Indy Lights.
Under the terms of the new sponsorship agreement, all IZOD IndyCar Series and Firestone Indy Lights employees and racing team personnel will become members of AirMed's acclaimed medical evacuation and repatriation program, which provides air ambulance transport to the hospital of the member's choice from any point on the globe.
"Whether at a race or off-track, we have a strong commitment to safety," said Dr. Mike Olinger, IZOD IndyCar Series director of medical services. "Not only do we strive to provide what's best for our drivers and teams, it's also extremely important to us that the best services are available to our employees, as well. With its unparalleled reputation, AirMed is able to meet our needs. Since we take the IZOD IndyCar Series and Firestone Indy Lights across the country and to markets outside of North America, we'll require first class facilities and personnel to transport our drivers, teams or employees to their desired destination for treatment, if necessary. It gives us great peace of mind knowing that we can turn to AirMed in these situations."
AirMed is the leading U.S. air ambulance service, trusted by the U.S. Department of Defense and nation's top hospitals, including the renowned Mayo Clinic. AirMed operates its own fleet of ICU-equipped jet aircraft from multiple bases across the globe. The AirMed Traveler membership program has more than one million members in North America and covers individuals and their family members who are ill or injured while traveling, providing bedside-to-bedside air medical transportation along with a 24/7 medical services hotline, pre-trip security briefings and many other benefits.
"Both AirMed and INDYCAR agree that safety is the top priority for every life we touch, so we are extremely pleased with this new relationship," said AirMed International CEO Jeffrey Tolbert. "As INDYCAR continues to expand globally, they can rest assured that AirMed will be there to support them should an unexpected emergency occur. Now the fastest drivers in the world will have the fastest way to recovery."
About the AirMed Air Ambulance Membership Program
If you're ever hospitalized at home or abroad, an AirMed Traveler membership means you will be airlifted to the hospital of your choice – as long as it's 150 miles away. Meanwhile, the most experienced and respected medical team in the air will treat you on one of our state-of-the-art jets. AirMed provides world-class transportation and the most experienced medical teams in the air—bedside-to bedside. There are no co-pays, no deductibles and no hidden fees found in most travel insurance or premium card plans.
Now the Official Air Ambulance of INDYCAR, AirMed offers membership plans for individuals, families, students studying abroad and can even customize pricing for corporations who wish to cover their employees. Visit the website, airmed.com, for complete details.
About INDYCAR
INDYCAR is the governing body of the IZOD IndyCar Series, the premier open-wheel racing series in the United States, Firestone Indy Lights, which serves as an essential stepping stone for drivers and teams striving to reach the IZOD IndyCar Series, and the Mazda Road to Indy, the official development ladder system for career-minded drivers who wish to compete in the IZOD IndyCar Series. INDYCAR events are available to a worldwide audience through a variety of multimedia platforms, highlighted by long-term and broad-reaching partnerships with ABC and VERSUS. INDYCAR is continually at the forefront of motorsports innovation with drivers, teams and tracks benefiting from major safety and technological improvements such as the SAFER Barrier, SWEMS wheel tethers, chassis enhancements, ethanol fuel and the Holmatro Safety Team.
# # #