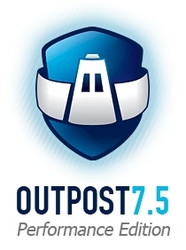 St. Petersburg, Russia (PRWEB) March 15, 2011
The security experts at Agnitum, developers of the Outpost Pro security product line, are pleased to announce the availability of the Outpost 7.5 product line in beta. Packed with new functionality and performance improvements, the latest versions of Outpost Security Suite Pro, Outpost Firewall Pro and Outpost Antivirus Pro speed up overall operation and reveal as little resource load as possible for up-to-date security solutions.
Thanks to the consolidation of signature databases in user and kernel modes, Outpost 7.5 reduces memory usage by 45 to 50 percent compared with Outpost 7. Apart from great performance, Outpost's rock-solid defense has been generously supplemented with new non-signature detection algorithms, flexible autorun protection and clipboard content protection -- just to name a few.
Download Outpost 7.5 beta now and let us know what you think!
While the download is in progress, you may get familiar with a short-list of new and improved features:
New! SmartDecision technology
One of the key novelties in the new product line, SmartDecision steps in to perform non-signature detection by rating every executable file against a number of criteria and determining its authenticity or potential damage. This technology employs multi-level risk measurements and enables Outpost to provide you with visual guidance as to the best way to proceed (allow or block) along with a corresponding window color -- red, yellow or green.
Improved! Faster content filtering
Agnitum engineers have reworked the Web Control module to reduce the resource load without impacting PC security. Here's our estimate of speed increases:

HTML filtering is 50 times faster than in earlier versions
Ad-site filtering is now 25 times faster
Spyware-site filtering is now up to 100 times faster.
Improved! Updated antimalware engine -- version 5.2
With the introduction of new management and storage functionality for the signature databases, the antimalware module now uses 50% less memory than the previous version. Also, the updated engine delivers even greater detection accuracy by grouping similar virus implementations under a single signature.
Improved! SmartScan 4 / XAS technology Speed-Up
The latest 4th iteration of SmartScan speed-up technology, code-named eXtended AttributeS (XAS), enables even faster caching of file and folder check information without impacting performance.
Improved! Antimalware / eXtended Heuristic Analyzer
HAX (eXtended Heuristic Analyzer) has increased -- by a factor of more than ten -- the number of indicators and parameters for suspicious programs, which in turn increases the analyzer's coverage and detection rates.
New! Clipboard and screen content protection
Clipboard content protection (part of Anti-leak) now resists so called *clipboard-loggers* (which may grab your personal data from the clipboard) and *screenloggers* (which may send out randomly-taken screenshots from your PC to malefactors). Thus you don't have to worry about copying and pasting personally-identifiable information.
New! Anti-Malware / USB virus protection
In order to combat malware which spreads via USB storage devices by using Windows autorun vulnerability, Outpost 7.5 now includes specific USB virus protection that may flexibly operate in several scenarios -- from completely blocking the device to freezing particular unverified executables.
Improved! Full firewall compatibility with mobile broadband devices
Outpost 7.5 provides enhanced filtering for the traffic generated by mobile broadband devices (such as 3G modems) to further safeguard laptops and other portable devices.
All this new functionality has been added to make it easier for you to protect your valuable assets. As the proof is in the pudding, we urge you to download a public beta-version of Outpost Security Suite Pro, Outpost Firewall Pro or Outpost Antivirus Pro 7.5 and test-drive it today.
###