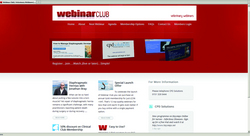 Just what I am looking for: interactive CPD I can do at home or work
(PRWEB) March 16, 2011
Webinar Club provides affordable and accessible veterinary CPD that is interactive. Sometimes online CPD can feel a bit isolated; with veterinary webinars vets can take part in the conversation and have their questions answered.
One veterinary webinar a month is delivered by a leading expert in small animal medicine, imaging or surgery. Members of Webinar Club can attend the live event from the comfort of their practice or home, or watch the recording after the event at a convenient time. CPD hours are accumulated for webinars attended and CPD certificates can be downloaded for RCVS records.
The first veterinary webinar is by Jonathan Bray of Massey University, New Zealand. The subject is Diaphragmatic Hernias, and Jon will be providing essential practical tips to help vets to get the best outcomes from their surgery with this challenging condition.
Upcoming webinar subjects can be found on the website at http://www.veterinarywebinars.com . Vets can join Webinar Club as a Silver Member and watch a free demonstration webinar before deciding whether to upgrade to full Membership.
Webinar Club is provided by CPD Solutions, UK leaders in provision of online veterinary CPD.
###