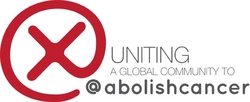 "They say laughter is the best medicine, so if I can combine my profession with helping the fight against cancer, it's a win-win," said Sarah Colonna, a writer and roundtable regular on the Chelsea Lately show. "Let's all support Abolish Cancer."
Los Angeles (PRWEB) March 15, 2011
AbolishCancer and the comedians of Chelsea Lately, including Chelsea Handler herself, are teaming up to launch the "1-4/1 Cancer's No Joke" campaign, which encourages everyone to donate $1 to their favorite cancer charity on April 1. The hope is to use comedians, especially on a day known for humor, to draw attention to a serious topic and raise money to fight cancer.
While many people may not be able to make significant charitable contributions all the time, a campaign like this can help bring into focus how everyone doing a little bit can make a huge difference. The "1-4/1 Cancer's No Joke" campaign asks people to donate just $1 to a cancer charity of his or her choice on April 1.
To inspire others to get involved and share their story, several comedians from Chelsea Lately have posted videos sharing whom they are "abolishing cancer" for on http://www.abolishcancer.com. Anyone is able to post an image or video on the AbolishCancer Facebook or Twitter to share their inspiration and/or to what charity they chose to donate $1. The website also includes a select list of cancer charities to send your $1 donation to on April 1.
"We've all been touched by cancer in some way or another. We want to unite passionate people to raise awareness and money to put an end to this disease and show solidarity as a global cancer-fighting community," said Darah Bonham, founder of Abolish Cancer. "We have been building solid support through Twitter, but thought celebrity comedians could help better focus attention on this cause. I am so thankful for the support from the comedians of Chelsea Lately, and to every individual who donates to help abolish cancer."
In her video, Chelsea Handler mentions her inspiration to abolish cancer is her mother, while Sarah Colonna is donating $1 in memory of her grandmother. Other celebrity comedian participants include Brad Wollack, Chris Franjola, Heather McDonald, Jeff Wild, and Josh Wolf from Chelsea Lately.
"They say laughter is the best medicine, so if I can combine my profession with helping the fight against cancer, it's a win-win," said Sarah Colonna, a writer and roundtable regular on the Chelsea Lately show. "Let's all support Abolish Cancer."
Tell us whom you are abolishing cancer for with your donation by uploading videos, pictures or posting on our Facebook or Twitter.
About AbolishCancer
@abolishcancer, LLC was created in 2009 for the sole purpose of uniting a global community in the fight against cancer. While there are thousands of great cancer charities and organizations in the fight to end this disease, we see the need for a unified front to both raise awareness and $ to end cancer. @abolishcancer provides a platform to support cancer charities, cancer patients, families and all those in the fight. To date, @abolishcancer has raised over $49,000 for various cancer charities through tweeting.
###