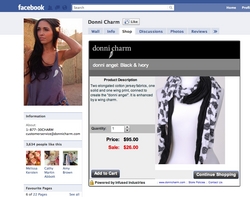 "Offering products right from our Facebook page gave us a chance to connect directly with our customers, which meant not only revenue but also more Facebook fans who we hope will buy from us in the future." -- Joey Mosko, CEO of Donni Charm
Raleigh, NC (PRWEB) March 15, 2011
Luxury apparel designer, Donni Charm, launched a 24-hour sale of their most popular products using a Facebook pop-up shop.
Announced to a national television audience, the Denver, Colorado-based company hosted the sale using a shop on the Donni Charm Facebook page (http://www.facebook.com/donnicharm/).
The shop, hosted by Infused Commerce (http://www.infusedcommerce.com/), allowed visitors to browse an exclusive selection of Donni Charm scarves and purchase securely without leaving Facebook.
"Offering our products right from our Facebook page gave us a chance to connect directly with our customers, which meant not only revenue but also more Facebook fans who we hope will buy from us in the future," said Joey Mosko, CEO of Donni Charm.
In addition to a fully functional social commerce store, Infused Commerce provided custom features to the Donni Charm Facebook shop including coupon code functionality and inventory management. Total set up time took under 4 days to complete.
"Even with customizations, Infused Commerce set us up with a Facebook shop quickly and affordably," Mr. Mosko added.
Facebook, the world's largest social network with over 600 million users, is becoming a direct commerce channel as brands seek to maximize their social media investment and deepen relationships with customers. With full e-commerce functionality, Facebook shops give brands the opportunity to host special offers for their fans.
Fans, in turn, are beginning to find exclusive deals from brands that aren't offered anywhere else.
According to the independent research form, eConsultancy (http://econsultancy.com/), special offers and shopping are the highest reasons why people follow brands on Facebook, along with activities such as following events and leaving feedback.
"Brands like Donni Charm are ahead of the curve when they host product sales on their Facebook page," said Arthur Tew, Director of Operations at Infused Industries, the social commerce solutions provider of Infused Commerce.
"Customer experiences on Facebook are not only engaging but also rewarding when fans share discoveries with their networks," added Mr. Tew.
"The benefits of participating in social commerce can be tremendous."
###