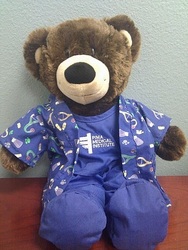 Tucson, AZ (PRWEB) March 15, 2011
Hospital visits can be scary for kids, but some students at the Pima Medical Institute Tucson campus are helping to ease those fears by building new best friends for children who are fighting illnesses at Diamond Children's at University Medical Center in Tucson.
Thirty-six nursing students and staff from Pima Medical Institute will visit Build-A-Bear Workshop at Tucson Mall on Friday, March 18 at 9 a.m. to choose, stuff and name bears. They will also dress the bears in Pima Medical Institute scrubs, matching the students' own attire. After building the bears, the students and staff will visit Diamond Children's at 11 a.m. to tour the new facilities and present the bears to children. The children will also get a special visit from the Build-A-Bear mascot, Bearemy.
WHERE:
Build-A-Bear Workshop, Tucson Mall
4500 N. Oracle Road, Suite 135
Tucson, Ariz. 85705
Located near Dillard's on the first level
Diamond Children's Medical Center
1501 N. Campbell Ave.
Tucson, Ariz. 85724
WHEN:
Friday, March 18, 2011
Build-A-Bear Workshop 9 - 10 a.m.
Diamond Children's Medical Center
11 a.m. - noon
MEDIA OPPS:
Below is a sample of interview opportunities and visuals available:

Photograph and interview Pima Medical Institute students stuffing, dressing and naming bears at the Build-A-Bear Workshop at Tucson Mall.
Capture the students - and the Build-A-Bear mascot, Bearemy - as they gather to donate the bears they created for patients at the Diamond Children's.
Interview executives from Pima Medical Institute and Diamond Children's to learn how donations like this benefit both the giver and the recipient.
Connect with parents to hear how the new teddy bear best friends will make a difference to their child.
Please contact Beth Glick at Pima Medical Institute at bglick(at)pmi(dot)edu or (480) 610-6068 or Darci Slaten at Diamond Children's at darci(at)peds(dot)arizona(dot)edu or (520) 626-7217 to arrange interviews and photography.
About Pima Medical Institute
Established in Tucson in 1972, Pima Medical Institute (PMI) is one of the premier medical career colleges in the western United States. PMI is a private, family-owned, accredited school dedicated to providing students with a well-rounded education that offers theoretical classroom studies coupled with real world training on-site at medical facilities. Pima offers a wide range of certification and associate degree programs, such as medical assistant, radiography, veterinary assistant and pharmacy technician.
###