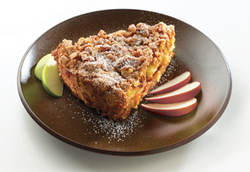 Baltimore, MD (PRWEB) March 16, 2011
Eating patterns from thousands of years ago with the consumption of vegetables, fruits, grains, fish – and olive oil instead of butter – are about to become the wave of the future. The newly released 2010 Dietary Guidelines for Americans urge most of us to cut back on saturated fats, salt and sugar, as well as eat smaller portions, to reduce our nation's unhealthy and costly obesity epidemic.
During March, which is National Nutrition Month, the American Dietetic Association is encouraging all of us to focus on making informed food choices and developing sound eating habits.
Consumers can make smart ingredient choices when preparing meals at home: instead of using solid fats, such as butter and stick margarine, the guidelines urges consumers to select ". . . oils that are rich in monounsaturated and polyunsaturated fatty acids." This includes olive oil and canola oil – but not coconut and palm kernel oils, which actually have higher levels of saturated fat than butter."
Eating more vegetables, fruits, whole grains, and seafood are at the heart of the guideline recommendations – and olive oil can be used in preparing those core foods to add flavor and versatility to meals whether sauteing, grilling, baking or making a salad. A tablespoon of butter actually has three times the saturated fat (7 grams) as a tablespoon of olive oil (2 grams). Using olive oil not only helps reduce solid fats in a diet but also adds distinctive taste to any cuisine.
As examples of healthy eating styles, the guidelines point to the Mediterranean diet, which olive oil has always been part of, and the DASH (Dietary Approaches to
Stop Hypertension) diet that emphasizes lower sodium intake. Major brands of olive oil contain no sodium, unlike salted butter.
Bill Monroe, CEO of Pompeian, the century-old Baltimore importer of premium quality, extra virgin olive oil, responded positively to the release of the guidelines. "We are very pleased to see that the new guidelines have focused attention on the role olive oil can play in addressing the nation's growing health crisis. We have
developed our website to provide all the information consumers need to make a smooth transition away from solid fats."
The Pompeian website has many recipes in which olive oil is substituted for butter. There is also a conversion chart that shows how much Pompeian olive oil should be used in place of butter or stick margarine – and a smoke point chart that indicates which type of olive oil – extra virgin, extra light tasting or classic – to use depending on whether you are roasting, sauteing, frying or baking. Many people never think of baking with olive oil, but yes you can, and the results are outstanding – moist, with a light texture and wonderfully good taste.
Try this recipe:
German Apple Cake
Topping Ingredients: :
1/2 cup chopped walnuts
1/4 cup all-purpose flour
1 tsp. cinnamon
1/4 cup brown sugar
1/4 cup Pompeian Extra Light Tasting Olive Oil
Cake Ingredients
2 cups all-purpose flour
1 tsp. baking soda
2 tsp. cinnamon
1/2 tsp. salt
3/4 cup Pompeian Extra Light Tasting Olive Oil
2 cups sugar
4 cups peeled, chopped apples
3 eggs
2 tsp. vanilla extract
Preparation:
Coat a 9-inch spring form pan with cooking spray. In a small bowl, combine topping
ingredients and mix together until large crumbs form. Set aside.
Combine first four cake ingredients in a bowl. In a large bowl, beat olive oil and sugar,
then add eggs, one at a time, beating in between additions. Beat in vanilla extract. Add dry ingredients and beat on low speed, just until mixed. Batter will be thick. Fold in chopped apples.
Transfer batter to prepared pan and sprinkle with topping. Bake at 350 F for 1 hour or until
a toothpick inserted into center of cake comes out clean.
The U.S. Department of Agriculture website, http://www.mypyramid.gov, is devoted to providing more details on the guidelines. It notes another benefit of switching over from butter: "Oils from plant sources (vegetable and nut oils) do not contain any cholesterol. In fact, no foods from plant sources contain cholesterol."
To learn more about Pompeian olive oil and how to make delicious recipes using it,
visit http://www.pompeian.com.
For high-resolution image, visit: http://www.blockdecorso.com/Login/verify.asp?login=PompPR.Cake&password=PompPR.Cake
###