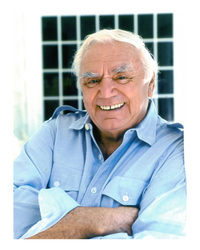 'Another Harvest Moon' is both a highly personal film and one that appeals to anyone who has had an elderly relative," says director Greg Swartz. "This kind of story has not been told before, yet it is something that everyone experiences."
Fort Lauderdale, FL (PRWEB) March 16, 2011
Two of Hollywood's most enduring stars, Emmy® and Oscar® winner Ernest Borgnine and four-time Emmy® winner Doris Roberts, will be in Fort Lauderdale, Florida on April 1 for the world theatrical premiere of Another Harvest Moon, directed by Greg W. Swartz. The film opens at the Cinema Paradiso and a number of other theaters in Florida with additional engagements being rolled out across the country. http://www.anotherharvestmoon.com.
Borgnine, who recently received the Screen Actors Guild Lifetime Achievement Award, will receive another one from the Cinema Paradiso, home of the Fort Lauderdale International Film Festival.
Moon also stars Piper Laurie (multi Emmy® and Oscar® nominee), Anne Meara (also much nominated), Richard Schiff, three times Golden Globe® winner Cybill Shepherd and Cameron Monaghan, whom Access Hollywood recently named one of the 11 teen stars to watch in 2011and who stars in Disney's upcoming Prom. Steven M. Delamater is executive producer. Other theaters include the Palm Beach Cinemax, Bill Cosford Cinema in Coral Gables, the Playhouse in Lake Worth and Living Room Theater in Boca Raton.
Another Harvest Moon is the powerful emotional story of four elderly residents in a nursing home who become like family to each other, with all the bickering, loving and caring that such relationships entail. But three generations of their families are conflicted, too, as their lives and love for each other are torn by the decisions they must face. It won audience awards at the Rhode Island and Louisville Film Festivals.
For photos, please go to: http://bit.ly/elN7wu
PRESS CONTACT:
Leonard Morpurgo
(818) 760-8995 o
(818) 731-3513 m
leonard(at)publicity4all(dot)com
###