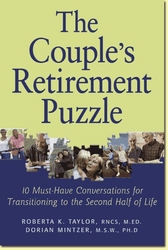 "The development of "The Couple's Retirement Puzzle" was influenced by our extensive clinical work with couples," said co-authors Taylor and Mintzer. "Many couples say that although they have a network of friends, issues related to retirement planning and
Wellesley Hills, MA (PRWEB) March 31, 2011
In the midst of a "longevity revolution," more than seventy-eight million baby boomers are pioneering a new life stage characterized by living and working longer. With the traditional notion of the "golden years" rapidly becoming a thing of the past, boomers are being challenged to redefine retirement and reinvent themselves in order to enjoy a sense of meaning, purpose and belonging in the second half of life.
A new book, "The Couples Retirement Puzzle: Ten Must-Have Conversations for Transitioning to the Second Half of Life," is a wake-up call to couples and partners as they approach this critical, "third age" of their lives. Calling for careful planning, open dialogue, self-awareness and a willingness to confront change, authors Roberta Taylor and Dorian Mintzer – both experienced psychotherapists and life coaches – provide real-life examples, as well as tips and techniques, for couples in midlife and beyond who are contemplating, approaching or already in the midst of the retirement phase of their lives.
Taylor and Mintzer believe that when couples are able to communicate effectively and know how to compromise and negotiate, they are less likely to avoid the often difficult and uncomfortable issues related to retirement transition.
Unlike other books about redefining retirement on the market today, Taylor and Mintzer offer couples a road map for effective communication using a template of ten (10) different conversations that begin the process of crafting a shared vision for retirement planning.
The book will cover such topics as:

Creating a timetable for retirement.
How to plan for future medical and health care needs.
Understanding how roles may change as we go through transition or the so-called "third age" of the life cycle.
Valuing intimacy and affection.
Making financial decisions together.
The importance of time together and apart.
Talking about lifestyle and living environments.
Agreeing on family obligations and responsibilities.
Appreciating the value of social and community connections.
Determining a shared value system.
"The development of "The Couple's Retirement Puzzle" was influenced by our extensive clinical work with couples," said co-authors Taylor and Mintzer. "Many couples say that although they have a network of friends, issues related to retirement planning and redefining their retirement are rarely discussed."
The Couple's Retirement Puzzle: 10 Must-Have Conversations for Transitioning to the Second Half of Life, a 304 page soft-cover book, 6"x9", is now available on amazon.com , barnesandnoble.com, as well as on the book's website. It retails for $17.95, with distribution services provided by Ingram Publisher Services, Inc. ISBN #978-936498-07-9.
About the Authors …
Dorian Mintzer, M.S.W., Ph.D. is a licensed psychologist, career/life transition coach, executive coach, teacher and speaker. She is a licensed third age coach and a 2Young2Retire certified facilitator. She facilitates workshops and speaks to community and professional groups on topics related to mid-life issues. She is founder of the Boomers and Beyond, a special interest group for interdisciplinary professionals. She utilizes her life experiences and expertise in adult development and holistic life planning in her work with helping individuals and couples navigate the second half of life.
Roberta K. Taylor, RNCS, M.Ed., is a licensed psychotherapist, life transition coach and consultant, and couples relationship coaching specialist. A member of the National Speakers Association, she facilitates workshops and speaks to professional and community organizations on topics related to midlife and retirement transition. She brings her expertise in adult development and life planning, as well as her own life experience, to working with individuals and couples facing the challenges and opportunities in the second half of life. She believes that couples do best when they think ahead and plan together.
Further information is available at: http://www.couplesretirementpuzzle.com
###