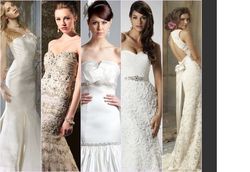 New York, NY (PRWEB) March 16, 2011
Weddingdresses.com the online home for Wedding Dresses magazine, is the place to check out the newest wedding dresses, learn about today's leading designers of wedding dresses and learn everything you need to know about wedding dresses from A to Z. Other topics include guides to wedding dresses fabrics, engaging features about the history of the wedding dress, a wedding dress dictionary, guides on how wedding dresses are made, and wedding dresses from all over the world.
With the boom of summer weddings just around the corner, Weddingdresses.com is making sure soon-to-be brides are on top of the latest wedding dress trends.
Wedding Dresses Magazine "12 Wedding Dress Trends for 2011":
12. Light Fabrics
Light fabrics, such as tulle and organza, are making a huge splash this year. Some recent examples include Marchesa wedding dresses 2011 collection and Rivini wedding dresses 2011 collection.
11. Couture Wedding Dresses Sample Sales
Everyone today wants a couture wedding dress. Now, with the help of e-commerce, brides are able to buy their favorite high-fashion bridal looks at discounted prices through sample sales.
10. Alternative Wedding Dresses Styles
Brides are getting bored of the classic white wedding dress. This year began the trend of new quirky, alternative styles for brides. The new BHLDN bridal line, which makes gorgeous vintage and alternative styles, highlights what today's modern bride is moving toward.
9. Black and White Wedding Dresses
The looks of the black accented sash is another growing trend this year. Brides who are looking for a sophisticated look can chose this trend or create something similar to this Rivini wedding dress.
8. One-Shoulder Wedding Dresses
While the strapless wedding dress has dominated the bridal scene for at least a decade, a new trend that has been growing in momentum is the one-shoulder look. With a touch of a Greek goddess influence, these gowns are both chic and sophisticated.
7. All Over Sparkle
From Swarovski crystals to real diamonds, brides in 2011 want to sparkle! Wedding dresses, like this one by Stephen Yearick, show that brides are looking for wedding dresses that look more like party gowns.
6. 3D, Big Flowers
The floral trend continues into 2011. But it's no longer about floral accents or embellishments; this year it's all about exaggerated floral details that look like they're in full bloom.
5. Cap Sleeves
Another jab to the strapless wedding dress trend is the return of sleeves; cap sleeves, that is. Based on recent runway shows, designers such as Angel Rivera and Monique Lhuillier wedding dresses are bringing the look back.
4. V-Necks
V-Neck wedding dresses are also growing in momentum. Brides are learning that the neckline is flattering on small-chested women, adds support for large-chested women and elongates the neck.
3. All Over Lace
Your mother might have been decked in lace for her wedding dress, but now the trend is making a powerful surge back. Celebrity brides such as Ivanka Trump and Nicole Richie both chose lacey looks for their wedding day.
2. Convertible Wedding Dresses
The rise of mini wedding dresses has persuaded many brides to purchase two wedding dresses, one for the ceremony (the traditional dress) and one for the reception (the mini dress). A more affordable option is a single wedding dress that can be dressed up or dressed down. For example, recent celebrity bride Kellie Pickler wore a classic Badgley Mischka wedding gown with a removable ball gown skirt.
1. Big Ballroom Skirts
With two royal weddings around the corner, brides want to look as pretty as a princess by wearing big ball gown wedding dresses. Statement wedding dresses from Lazaro, Ines DiSanto and Augusta Jones dominated the runway this year and are sure to be this year's biggest wedding dress trend.
To discover all these wedding dresses and more visit weddingdresses.com
###