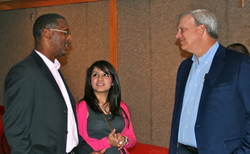 "Without friends like Mr. Huddleston we simply wouldn't be able to go on trips like these. So not only does he provide the financial support, he also provides the moral support for us to be able to go as well"
Dallas, TX (PRWEB) March 15, 2011
While many college students are spending spring break getting away from their university campuses, some high school students from a historically underserved part of Dallas are spending their break touring nine of them. This is the fourth "Mercy Street Spring Break College Tour," organized by West Dallas-based ministry Mercy Street. Albert Huddleston, CEO and Chairman of the Board of Dallas-based Hyperion Resources helped sponsor the tour for 40 students and 14 adults for the fourth consecutive year.
The trip departed early Monday morning, March 14 from the Mercy Street headquarters at 3801 Holystone Street in West Dallas. Mr. Huddleston was there for the send off. Albert Huddleston and his family have funded each of the Mercy Street Spring Break College Tours as part of their Huddleston Community Service Initiative.
"Without friends like Mr. Huddleston we simply wouldn't be able to go on trips like these. So not only does he provide the financial support, he also provides the moral support for us to be able to go as well," says trip organizer Carlton Oby, Mercy Street Associate Executive Director.
Oby grew up in West Dallas. He began taking students from Pinkston High School on this annual trip when Pinkston was still rated by the state as "academically unacceptable." The tour is a way to instill in Pinkston students a desire to get a college education and to experience life beyond the neighborhood they call home.
"We want to awaken the dreams to students here in West Dallas to what God may have them to do. Every student that we have taken on the college tour has graduated on time. We've got a 100% graduation with that. 80% of those graduates went on to college," says Mr. Oby.
Estefania Alcantar, a graduate of Pinkston and now a sophomore member of the Corps of Cadets at Texas A&M University told the group that the tour made a major impact on her life when she took it three years ago. Alcantar is the first generation of her family to attend college. "It's been amazing because I have younger brothers and sisters that are looking up to me. My older sister enrolled in community college after I went to Texas A&M. My mom and dad are very proud," says Alcantar.
The College Tour is one part of a multi-pronged effort by Mercy Street and West Dallas volunteers to improve both the quality of life in the area, especially children, and to improve the academic performance of students at Pinkston. Many of their efforts are beneficiaries of Albert Huddleston and Huddleston Community Service Initiative funding. The efforts are paying off because Pinkston has now improved its ranking to "academically acceptable," and is working toward additional gains.
Paul and Mary Huddleston, Mr. Huddleston's son and daughter-in-law, also helped underwrite the trip and they mentor to students through the Mercy Street Program. Pinkston High Junior, Nikolett Lyons, is a mentee of Mary Huddleston, and was excited to be making her college visit.
During their 5-day trip, students will visit Baylor University, Huston-Tillotson University, Prairie View A&M University, Texas A&M University, Texas Southern University, Texas State University, the University of Houston, the University of Texas at Austin and the University of Texas at San Antonio. The students will return home on Friday, March 18.
About Mercy Street:
Mercy Street is a Dallas-based Christian ministry, which desires to glorify God and transform the neighborhood of West Dallas through the gospel of Jesus Christ. The staff and volunteers of Mercy Street work for community restoration by engaging in mutually transforming relationships with the future leaders of West Dallas. Visit http://www.mercystreetdallas.org for more information.
About Huddleston Community Service Initiative:
Founded by Albert and Mary Huddleston, this Dallas-based Christian initiative provides support for communities in need through service and sharing. The Huddleston Community Service Initiative mission is to find real needs and make a positive difference. For more information, call Robert Riggs at 214-686-1949.
###