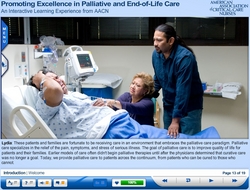 "We strive to engage learners on an intellectual, visual, emotional, and auditory level." Ed Garner, Vice President of Custom Development Services
Austin, TX (PRWEB) March 17, 2011
Enspire Learning, a leading developer of customized training solutions, won the Role Play Interactivity Shootout held during the Training 2011 Conference & Expo in San Diego.
Enspire's winning solution was a virtual hospital developed for the American Association of Critical-Care Nurses (AACN). The interactive simulation was designed to teach nurses best practices for palliative and end-of-life care. Nurses read patient files, interact with patients and their families, conduct difficult conversations, and manage their personal stress levels.
Jerry Pharr, Senior Producer at Enspire Learning, demonstrated the simulation to an audience of more than 100 learning and development professionals at the Shootout, refereed by Bryan Chapman, chief learning strategist, Chapman Alliance.
"The approach we took with this solution is central to meeting the client's business objectives," Pharr said. "But what makes it so special is how we were able to blend live action video and Flash-based interactivities, all within a narrative arc that asks the learner to help five patients and their families make heart-wrenching, end-of-life decisions. It's this innovate mix of media and instructional design that really impressed the folks at the shootout."
This is not the first award for "Promoting Excellence in Palliative and End-of-Life Care." The simulation was recently recognized in the Brandon Hall Excellence in Learning Awards and the Horizon Interactive Awards.
"We strive to engage learners on an intellectual, visual, emotional, and auditory level. That can be a very hard to achieve in a medium like online training, but with AACN we were successful," said Ed Garner, Vice President of Custom Development Services at Enspire Learning. "The course trains nurses to deal with stressful situations by intellectually and emotionally challenging them. We're very proud of our work and are delighted by our collaboration with a visionary client like AACN."
###