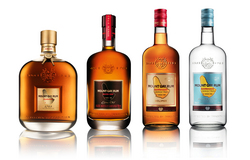 New York, NY (PRWEB) March 16, 2011
Mariners everywhere have a new global port to call home. Sailing Spoken Here has set sail to become the premier online network for sailors to congregate offshore. Created by Mount Gay Rum, a longtime sponsor of regattas worldwide, Sailing Spoken Here is designed to appeal to every rank of boater, from weekend yachtsmen to competitive racers. Sailors can celebrate every facet of the sport, connect with fellow enthusiasts, argue a protest, replay a race move, upload regatta pictures and even find a crew.
Founded in 1703, Mount Gay Rum became an integral part of the sailing community over three centuries ago. Early sailors would bring home a cask of rum as proof that they had been to Barbados - and in more modern times, Mount Gay's commitment to regattas, events and sponsorships within the sailing world has earned considerable brand loyalty, so much so that the "Mount Gay red cap," presented only to sailors who complete a race, has become a revered symbol and a trophy of victory.
Sailing Spoken Here, developed by OgilvyOne on behalf of Mount Gay Rum/Rémy Cointreau USA, Inc., is expected to have an estimated 50,000 users by spring 2011. Currently an independent website (http://www.sailingspokenhere.com), Sailing Spoken Here is also available through Facebook and mobile applications.
To toast the launch of Sailing Spoken Here, enjoy a classic Mount Gay Rum Punch created by Chester Browne, Mount Gay Rum Brand Ambassador:
Mount Gay Rum Punch by Chester Browne
19 oz Mount Gay Eclipse Rum
18 oz water
12 oz grenadine syrup
13 oz sugar syrup
4 oz lime juice
1 oz Angostura bitters
1 tsp nutmeg
In a punch bowl, mix all ingredients together. Allow to rest for two hours, serve over ice and garnish with a cherry.
To learn more about Mount Gay Rum and Sailing Spoken Here, including classic cocktail recipes for the sailing community, please email Rebekah Polster, rebekah(at)gregorywhitepr(dot)com or phone (718) 403-9473.
About Mount Gay Rum
Founded in 1703, Mount Gay Rum is the world's oldest rum, from the birthplace of rum, Barbados. Barbados is an oasis for the creation of the finest rum - a deep coral reef gives Mount Gay one of the purest, naturally filtered sources of water in the Caribbean - and sugar cane is of the highest grade. Mount Gay Rum acquires complexity through the use of both single batch and continuous distillation methods. The art of blending determines the final character of Mount Gay Rum. Under the direction of Master Blender Allen Smith the rums are aged in Kentucky white oak casks lightly charred to impart the precise balance of sweet oak, smoky flavor and rich amber color. The Mount Gay Portfolio includes: 1703 Old Cask Selection, Extra Old, Eclipse, and Eclipse Silver. Mount Gay is owned by Rémy-Cointreau International Group and exclusively imported to the U.S. by Rémy Cointreau USA, Inc. (New York, NY). For more information, visit http://www.MountGayRum.com. Mount Gay Rum: the Rum that invented Rum.
###