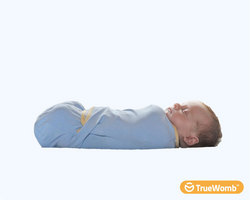 "This product performed exactly as described. My daughter slept much better and for much longer while wearing this product versus the two others we've tried. AMAZING!"
Cedar Park, TX (PRWEB) March 16, 2011
TrueWomb was among many entries from across North America competing to earn the PTPA™ Seal. Because independent parent volunteers evaluate these products in their own homes, PTPA winners are chosen based on merit and consumer experience – not on commercial considerations. As a result, the PTPA Media™ Seal has quickly gained recognition as an international leader in certifying consumer products for quality, effectiveness and value. Their CEO, Sharon Vinderine has appeared on over 40 morning shows as a reliable source for the latest and greatest in family products. The media and parents alike trust the collective opinion that PTPA Media represents.
"We are thrilled to be selected by PTPA Media for this honor," says TrueWomb CEO Brent Hollowell. "The fact that this award comes from real parents who tried and validated the TrueWomb Sleeping Swaddle themselves makes it especially meaningful."
Reviewers rated TrueWomb highly for effectiveness, safety, ease of use, durability and quality. According to one PTPA reviewer of TrueWomb, "This product performed exactly as described. My daughter slept much better and for much longer while wearing this product versus the two others we've tried. AMAZING!"
The patent-pending TrueWomb system – the first of its kind – replicates the sensation of being inside the womb by controlling the movements of both arms and legs in a way never done before. Tested by parents and pediatricians, the TrueWomb system helps solve problems that many newborns and infants experience, such as sleep disruption and colic. The SwaddleTech™ Pouch – the cornerstone of the system – comfortably eases the legs into the fetal position while at rest, but allows the legs and hips to extend and stretch in the same way they do inside the womb. The upper system snugly keeps arms in place within the escape‐proof SecureSleeve™, while still allowing for natural movements. The adjustable ComfortWrap™ belt made from Soft and Flexible Velcro® creates a secure foundation at the waistline for the extension and retraction of the SwaddleTech Pouch.
The Sleeping Swaddle features lightweight, breathable four‐way stretch cotton to provide comfort and prevent overheating and is available in four sizes: Extra Small (XS) through Large (L), MSRP $39.99. TrueWomb also features as part of its unique two stage system, the World's first and only Arms-Free Weaning Swaddle™ to help parents wean their babies from swaddling. Products are available for purchase at http://www.truewomb.com, and select baby specialty and online retailers in the US and Canada. For a complete list of PTPA Media Seal of Approval 2011 winners, visit their website http://www.ptpamedia.com
About TrueWomb
TrueWomb, LLC, is an Austin, TX‐based designer and manufacturer of innovative and intuitive baby gear that provides babies a nurturing head start by closely replicating the feel of the womb. Each product is engineered by Mother Nature to provide parents with practical solutions for their babies that aide in sleep and comfort – for everyone. TrueWomb is the only manufacturer of baby gear that gives babies the consistent flexibility and comfort of the natural womb's full fetal position through its patent‐pending system that includes the SwaddleTech™ pouch and specially engineered four‐way stretch cotton construction. To learn more, please visit http://www.truewomb.com.
About PTPA Media Inc.
PTPA Media provides an objective framework for appraising and promoting new products designed to enrich family living. The company's mission is to marry innovative companies with discerning consumers, to improve consumer access to quality products and services for their families and homes.
PTPA Media Contact Information:
Sharon Vinderine, Tel: (905)738-1447 x.224 For more information visit http://www.ptpamedia.com.
###