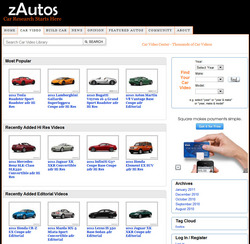 Customers experience cars, inside and out, and do not merely stare at doctored photographs and glitzy fliers.
Irvine, CA (PRWEB) March 15, 2011
zAutos.com, a consumer-centric car research website, proudly announces the addition of 500 new editorial and high-resolution videos to its acclaimed Car Video Center. This brings the grand total of car videos to well over 3,500 with over 1,100 new films released for 2011 alone. The Car Video Center is an integral part of zAutos.com's mission to educate the consumer. The videos add vibrancy to an otherwise rote-and-rot shopping routine, giving the power of knowledge to thousands of shoppers.
A popular feature on zAutos.com, the Car Video Center teems with interesting and informative films for the smart and savvy car buyer. Customers experience cars, inside and out, and do not merely stare at doctored photographs and glitzy fliers. High-res videos show detailed footage of a vehicle, swooping over the features of the exterior and interior. High-res films are accompanied by a roster of specifications, placed directly below the media for easy perusal. Editorial videos provide similarly meticulous footage, and add a narrator who relays useful information about the vehicle. The films currently cover makes and models of vehicles introduced in the 2009-2012 model years.
No longer relegated to studying chintzy marketing ploys, car customers can now use videos at zAutos.com to make informed purchasing decisions, saving money, time, and patience. On paper, vehicles are talented chameleons, cunningly concealing their flaws while promoting their strengths. But the 3,500 plus videos listed in the Car Video Center show vehicles without hiding their warts and wrinkles. Car buying is too important a task to be left in the hands of glamorized photographs and salesmen motivated by commissions; it needs to be given to the customer. With the latest addition of 500 new videos, zAutos.com now has thousands of films designed and dedicated to giving the power of knowledge to the customer.
About zAutos.com
zAutos was founded in 2006. The zAutos.com consumer car research portal was launched in 2010. zAutos.com is focused on providing car buyers with a variety of online resources that will assist them in making informed buying decisions when purchasing their next vehicle. zAutos.com currently provides the following on-line resources: Auto News, Auto Blog, Dealer Quotes, Build Car Application, and Car Video Center. zAutos has been a longtime provider of SAAS products to automotive service providers.
###