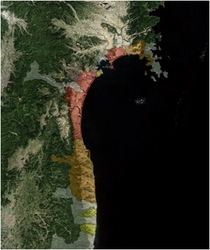 eCityRisk analysts have been working around the clock mapping tsunami damage for the re/insurance industry, which follows hot on the heels of detailed per-building and postcode damage mapping of New Zealand's earthquake in February.
Long Beach, CA (PRWEB) March 15, 2011
The tsunami footprint shows damage across the entire impacted area spanning nearly 120 miles of coastline, equivalent to the distance from Los Angeles to San Diego. The devastated area encompasses over 200 sq miles, an area slightly smaller than a city the size of Paris.
While the footprint can be viewed as a kml overlay in Google Earth in conjunction with the now available post-event imagery, it is also presented in flat file format for numeric analysis as % damage by 7-digit postcode, 3-digit postcode, ku-shi and prefecture level boundaries.
This shows the extent of flood inundation and the extent to which commercial, industrial and residential properties have been damaged or obliterated. For example, it shows complete destruction of Sendai International Airport, Fkushima nuclear plant and Nippon petroleum refining in Sendai, whilst Joban Joint Power plant in Iwaki and Onahama petroleum distribution plant in Iwaki would appear to have escaped unscathed.
The information and analysis being provided will facilitate carriers to form early but realistic estimates of potential exposures on a fact-evidence basis. On a direct and facultative basis, underwriters can identify which individual risks have been impacted. On a treaty basis, understanding the extent and nature of damage should enable much more accurate and timely loss modeling to be undertaken.
###