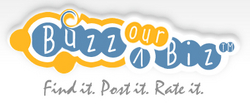 Seeing the ratings and reviews of others, especially those in your trusted network, is one of the best ways to find the right person or business for the job.
Calgary, AB (PRWEB) March 16, 2011
BuzzOurBiz Inc. announced today the launch of its social networking meets local services classifieds site http://www.buzzourbiz.com, which offers free ads and reviews for all types of services and businesses together with full social networking capabilities. Anyone offering or looking for any type of service can post and view ads, ratings and reviews and see what services their friends, family and others are using and recommending.
"BuzzOurBiz is the new social services," says Pankaj Bhawnani, founder of BuzzOurBiz. "It allows users to review and rate the services they've used, recommend them to others, see what their friends and family are recommending, post their own ads for any businesses they have or services they offer or are looking for and connect with other users in a multitude of ways." Those other users might be friends, family, current or potential customers, referral sources or groups of people in the same or related lines of business. Once connected, they have the ability to communicate directly and share as much of their activities on the site as they want with their contacts. "Seeing the ratings and reviews of others, especially those in your trusted network, is one of the best ways to find the right person or business for the job," adds Bhawnani.
In addition to mashing up reviews and social networking with a local classifieds platform, BuzzOurBiz is also unique for its sole focus on services of every type and description. "No matter how niche or unconventional the service is that you are looking for, you can find it and post and share reviews about it with your friends," says Bhawnani.
Examples of some niche services are ads posted by a Denver company specializing in doggy doo-doo removal, by a Calgary-based gel-nail technician that does home visits and by a Seattle-based business consultant and radio host. Some other examples of the types of services on the site include house sitters, life coaches, personal shoppers, nannies, personal chefs to cook you a fancy Sunday dinner at home, spiritual healers, weight-loss hypnotists and moms for a day, in additional to a whole host of others.
Posters of ads get a big promotional lift from the site as well. "BuzzOurBiz is far more than just a classifieds listing for services. It also offers a full selection of social media networking and advertising capabilities for anyone that posts an ad, so that anyone from the lone entrepreneur to an established business can promote their service or business for free," explains Bhawnani. "One of our main goals is to enable the entrepreneur in everyone." BuzzOurBiz, in addition to being totally free which is good for any entrepreneur, has numerous ways to help entrepreneurs generate more and more business through reviews and social networking connections they may not have considered before. This also includes the ability to manage contact lists, request recommendations and ratings and connect with peers or referral partners to refer business, discuss topics of interest and more.
Interest in the site has been strong. "We have been impressed by the high volume of traffic and numbers of ads posted during in the last two months or so that the site has been live in beta, especially given the fact that we are only just starting to get the word out," says Bhawnani. "Clearly, there are a lot of entrepreneurs and businesses out there with innovative services and people are interested in searching them out and reading reviews before they use or buy from them."
"We're setting our sights on being the only social services classifieds site that people need to go to for finding trusted and reviewed local service providers and we're going to continue to work on making BuzzOurBiz an even more useful and fun platform on which they can connect."
Plans for the next release of the site includes the launch of an iPhone app that will show users the online presence of people offering or available for services within a 10, 25, 50 or 100km radius so that users can reach them by just a tap on their phone to bring them a home cooked meal, be their nanny for the day, help them correct a home DIY-disaster, assist them with shopping and so on. Live presence and chat functionality will also be included in the next release.
###