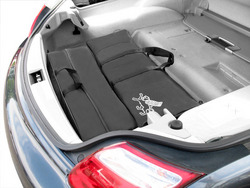 The economy is bouncing back. People want to have fun again. They're taking out their roadsters again; they want to go on vacation. But they want to be smart about it. They're actually making the drive part of their vacations
White Plains, NY (PRWEB) March 16, 2011
The recent economic rebound, warming weather and rising fuel prices have conspired to make travel by small, fuel efficient roadsters a stylish, practical and economical travel option. Roadtrip Luggage, arguably the best-known designer of custom fitted roadster luggage worldwide today announced an expanded line of custom fitted bags for roadsters and convertibles in time for the spring driving season. The updated catalog can be found on their website http://www.ROADTRIPLUGGAGE.COM and features new items for the Mazda MX-5 Miata, Nissan 370Z, Porsche Boxster and Cayman, Saturn Sky and Toyota MR2 Spyder as well as other popular models.
"It just made sense", says Jerome A Jao, CEO of Roadtrip Luggage. "I regularly travel to Boston from New York City on business, and as soon as the weather got better, I took my roadster out of the garage and drove that instead of my hulking SUV. Just the amount of gas saved was an absolute no-brainer. Taking the roadster I was actually looking forward to the 4-hour trip. And hey, there's nothing better than checking into a hotel in a hot convertible. And my clothes? Everything of course fit in my roadster luggage. If it fits the bags, it fits the trunk!"
"The economy is bouncing back. People want to have fun again. They're taking out their roadsters again; they want to go on vacation. But they want to be smart about it. They're using their roadsters for trips instead of just driving them to fancy restaurants or clubs - they're maximizing their investment. They're actually making the drive part of their vacations," Jerome A Jao explains. "Our company is just tapping into this rediscovered pastime. We're enabling our customers to do this without compromise, to be able to carry someone else in the passenger seat instead of a bag full of clothes. A lot of the joy of a road trip is being able to share that experience with someone."
Jerome A Jao founded Roadtrip Luggage in 2006 after completing a 3,000 mile road trip in a 2 seat convertible across the United States. Inspired by the impressions of America's scenery and vast open spaces and a fervent desire to share the experience, he started designing his first product right out of his garage in White Plains, NY. The business grew quickly, first targeting hardcore roadster enthusiasts and then the wider audience of convertible owners. Today, Roadtrip Luggage is arguably the best known provider of custom fitted roadster luggage in the world.
"Whether it's about optimizing a small trunk space, developing a bag that fits inside the spare tire, or one that follows the contours of your car's trunk, and especially now with the recent upsurge in roadster travel - Roadtrip Luggage continues to develop and research new exciting luggage solutions that let you drive with your top folded down." says Jerome A Jao.
About Roadtrip Luggage:
Founded in 2006, Roadtrip Luggage® is the leading designer and manufacturer of travel solutions for roadsters, convertibles, and small automobiles. Roadtrip Luggage® is available at http://www.ROADTRIPLUGGAGE.COM, and at specialty automotive stores worldwide. The company is headquartered in White Plains, NY.
###