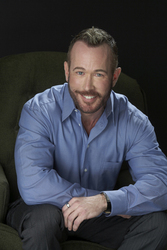 "I saw the devastation of the HIV/AIDS epidemic and I had to do something. HIV is not just a medical disease, it requires social services support, like mental health counseling, as well."
West Hollywood, CA (PRWEB) March 16, 2011
Ken Howard, MSW, LCSW, of West Hollywood, California, a psychotherapist who specializes in serving the needs of gay men and people living with HIV/AIDS, has won one of the ten "Dedicated and Deserving Social Workers" of the year awards from Social Work Today magazine (http://www.socialworktoday.com/archive/020911p12.shtml). His compelling story inspires and motivates professionals in the fields of clinical social work and psychotherapy.
Howard has been living with HIV himself for just over 20 years, and has been a practicing psychotherapist for over 18 years. He started his career as a volunteer peer counselor "phone buddy" at a program at AIDS Project Los Angeles (http://www.apla.org), and then formalized his training with a Master of Social Work degree at the University of Southern California School of Social Work.
"I saw the devastation of the HIV/AIDS epidemic, and what it was doing to my gay brothers in the community, and I knew I had to do something, " Howard explains. "I wasn't really up for becoming a physician, but I realized that HIV/AIDS is not just a medical disease, it requires social support services, including mental health counseling, as well, at every stage. From diagnosis, through getting connected to treatment, to coping with ongoing medical care and complex laboratory work, to dating, sex, and issues combating the stigma of HIV, counseling can be a vital resource."
After many years working for HIV-related non-profit organizations such as the LA Gay and Lesbian Center (http://www.lagaycenter.org) and as Clinical Director of SPECTRUM, a program of Charles R. Drew University of Medicine and Science in Los Angeles, Howard began a private practice, where he specializes in working with gay men, as well as those living with HIV. Services range from helping newly-diagnosed men (and some women) cope with their diagnosis, to standard counseling (relationships, psychiatric disorders, family, career), to providing business coaching for what Howard calls "the gay male solo creative professional entrepreneur", such as freelance television writers, actors, photographers, designers, and other creative artists in the Los Angeles area.
Howard is also a ten-year survivor of cancer, and recently had the second of two hip replacements, due to an HIV-related condition of the femur bone called Avascular Necrosis. "I'm just glad I'm here, and I'm actually doing well. I think my clients seeing me walking with a cane during the physical rehabilitation period for my hips helps me to educate them about how complex living with HIV can be, but one can still triumph over adversity. That's what I teach in therapy often; to empower yourself to overcome any challenge."
His first book, "Self-Empowerment: Have the Life You Want - How to close the gap between how life is, and how you would like it to be", will be published shortly and will be available at http://www.HaveTheLifeYouWant.com and at http://www.GayTherapyLA.com and http://www.PozTherapist.com.
His inspirational and motivational self-help podcast, available on itunes (http://www.itunes.com) and Zune (http://www.zune.com) is, "Have the Life You Want with Ken Howard, LCSW" and is popular with downloads all over the world. He adds, "I can't believe people listen to my podcast in countries I've never even visited, but it's an honor and kind of fun. I wish I could meet them all."
Howard is proud to be a member of the social work profession. "A lot of people don't realize how much psychotherapy social workers do, but we do. It's not just psychologists, as many people think. I thank the University of Southern California for great training, but I also am grateful to all the clients who have taught me about themselves. I'm proud to honor all those we have lost to HIV/AIDS by doing the work I do."
To book counseling/therapy sessions (in-person or via phone in California) or phone coaching sessions (outside California) with Ken Howard, email him at Ken@GayTherapyLA.com. To book him for motivational speaking engagements, email him or see his webpage for speaking at http://www.gaytherapyla.com/?page_id=16.
###