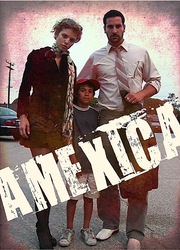 New York, NY (PRWEB) March 16, 2011
AMEXICA a film on Human Trafficking
AMEXICA tells an unforgettable story set in the underworld of human trafficking. Award winning filmmaker Ronald Krauss will be honored with a screening at the United Nations on March 16th sponsored by The United Nations Women's Guild, The United Nations Staff Recreation Council Friendship Club, the UNSRC Enlightenment Society and The Appignani Bioethics Center.
AMEXICA takes a stunning angle on the issue of human trafficking with a remarkable balance of filmmaking ad storytelling. Actors Joseph Ferrante and Anna Lynne McCord play a couple of con-artists who "rent" a poor Mexican boy to use for their own disturbing advantage. The young boy played by 9 year old Jordan James does not speak one word the entire film but screams with emotion for the many who suffer in silence. A mute stand in for the uncounted numbers of people, especially women and children, who slip through society's cracks and wind up exploited for labor and/or for sex around the world every day.
AMEXICA has been the recipient of several "Best Film" awards and has received praise from critics for it's sensitivity to this complex issue, helping to spread awareness for children in crisis around the world.
After the screening there will be an open forum and the opportunity to meet personally Dr. Mary Burke – Executive Director of The Project to End Human Trafficking, Actors - AnnaLynne McCord and Joseph Ferrante, and the filmmaker Ronald Krauss.
The AMEXICA Screening at the United Nations will take place on Wednesday 16 March, from 1:15 to 2:45 in Conference room 7 followed immediately after with a reception at Alcala Restaurant located at 342 East 46th Street, telephone No. 212-370-1866.
For more Information contact: Day Twenty Eight Films at d28films(at)yahoo(dot)com
###