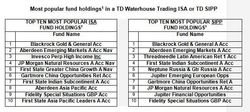 London (PRWeb UK) March 16, 2011
The top ten most popular fund holdings in a TD Waterhouse ISA or SIPP show that gold remains a popular choice among TD customers. With gold closing last year's trading at or around all time highs in all major currencies, rising 29.8% against the dollar4 (gold's second best annual gain against the greenback in the past decade) Blackrock's Gold and General Account maintains its position as the most popular ISA fund holding for the third year in a row.
Asia Pacific, China and India are also popular amongst ISA and SIPP holders, while customers holding a TD SIPP also favour Russia as emerging markets give the potential for strong growth with their burgeoning young populations and increasing global spending power. However, JP Morgan Natural Resources and Fidelity Special Situations maintain a place in both tables as TD customers look to diversify their portfolios across a range of sectors with an emphasis on long term returns.
Darren Hepworth, Trading and Customer Services Director, TD Waterhouse comments: "Emerging markets dominate TD Waterhouse customers' fund holdings this year in both our ISA and SIPP products as our investors look for long term growth in their portfolios. Gold remains in the top spot in both tables, and for a third year in a row amongst our ISA customers. Our investors appear to be seeking some solidity in light of the continued Eurozone sovereign debt crisis and concerns over possible future inflation."
The customer data also concurs with the recent results of the 6th annual TD Waterhouse Investor Confidence Index5, an independent survey to gauge retail investor confidence in the UK, which found that a quarter of UK investors surveyed expected the Asian stock market to perform best and a further 20% thought gold and precious metals would be top performers in 2011.
Darren Hepworth, continues: "The findings from the TD Waterhouse Investor Confidence Index confirms trading trends among our customers with over a quarter of respondents (26%) most likely to invest their tailored SIPP in international equities and three in ten investors (30%) having bought or sold shares in a company listed outside the UK in the last 12 months."
TD Waterhouse offers a wide range of investment choices to help investors diversify their portfolios. TD Waterhouse customers can hold unit trusts, shares, investment trusts, gilts, bonds, REITs or ETFs and depending on risk appetite, can choose from funds which invest in emerging markets or commodities, high income or sovereign bonds, amongst others. Fund investment is not without risk but TD Waterhouse offers varying degrees of risk to suit individuals' appetite. TD Waterhouse trading rates do not apply to funds and customers can choose from around 1,200 discounted funds from some of the UK's leading providers, over 800 of which have a 0% Initial Sales Charge (ISC).
The value of your investments can go down as well as up. You may not get back all the funds that you invest. Please note the tax treatment of these products depends on the individual circumstances of each customer and may be subject to change in future. The potential for profit or loss from transactions on international markets or in foreign denominated currencies will be affected by fluctuations in exchange rates.
TD Waterhouse is the UK's leading execution only broker6 with trading rates starting from £8.95. Only 15 or more eligible trades per quarter are required to qualify for TD Waterhouse's frequent trader rates7.
For more information customers can log on to http://www.tdwaterhouse.co.uk
About TD Waterhouse:
TD Waterhouse is the UK's leading execution-only broker†, servicing approx 200,000 UK customers with over £3.77 billion in customer assets (stocks and cash) under management. It is a subsidiary in the TD Bank Group (TDBG), the 6th largest bank in North America by branches. TDBG has 81,000 employees in offices around the world, serving 19 million customers with client assets of CDN$616 billion (as at 31, January 2011). † Source: Compeer based on daily average retail trades for TD Waterhouse including its white label partners, as at January 2011.
TD Waterhouse provides UK investors with simple, fast and easy share dealing services - combined with high quality news and information from leading providers including AFX and Morningstar (Hemscott) - to both active traders and longer-term investors. These include UK and international equity trading, Individual Savings Accounts (ISAs), Regular investment accounts, Self Invested Personal Pensions (SIPPs) and Contracts for Difference (CFDs).
TD Waterhouse is authorised and regulated by the Financial Services Authority (FSA), 25 The North Colonnade, Canary Wharf, London E14 5HS (FSA registered number 141282), member of the London Stock Exchange and the PLUS market.
###