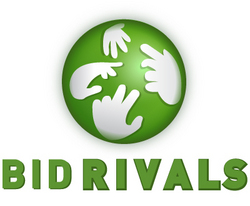 Customers purchasing the first model of the iPad from BidRivals.com saved an average of 96 percent
Sliema, Malta (PRWEB) March 16, 2011
Apple has just unveiled to the world the hottest piece of technology seen until now in 2011. The new iPad better known as the iPad 2 is a seriously cool tech must have, with many big improvements on its predecessor the iPad 1. Penny auctions giant BidRivals.com has just released this well designed device for auction and using their entertainment shopping system, iPad lovers can now access the brand new iPad 2 at incredibly discounted rates of up to 90 percent off!
The new Apple iPad is slimmer and lighter than the first iPad; the brand new A5 chip makes the newer model twice as fast and boasts graphics which are up to nine times better than the original iPad. Other much needed upgrades include a front facing camera, a back facing HD camera and to make the deal sweeter for all apple lovers the iPad 2 retains the same price tag as the first version of this great tablet.
Apple has managed to retain an incredible 10 hours of battery life within the new tablet whilst making it more ergonomic and comfortable to hold overall. As standard the new iPad 2 comes with a cover that protects and cleans the screen whilst also acting as a multipurpose stand to facilitate viewing. Apple once again scores full points making an already great product even better.
Customers purchasing the first model of the iPad from BidRivals saved an average of 96 percent. Through this release for auction the same phenomenal savings for customers can also be expected for the new iPad 2.
The company offers customers the ability to get up to 90% off brand new, premium quality merchandise via its entertaining Auction bidding system. BidRivals also operates as a traditional Online Retailer as it offers customers the option to purchase an item outright. With new items added to the catalogue every week, BidRivals takes pride in offering choice and variety and 24/7 customer support.
About the Company
BidRivals Ltd owns and operates BidRivals.com, an Online Retail and Auctions portal. Based in Malta, the company also has regional offices in USA and Australia. Operating since July 2009, BidRivals.com is one of the oldest Penny Auction operators in what is still a very fledgling industry.
For media enquiries contact:
Keith Montanaro
e-mail: keith(at)bidrivals(dot)com
###