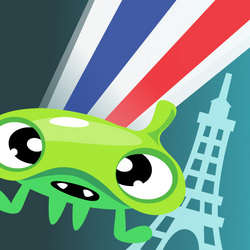 GoKids App: Save Paris! The best type of edutainment for kids ages 7+
Edinburgh, Scotland (PRWeb UK) March 16, 2011
Prepare for battle! Aliens have invaded Paris and you must save the city by playing this action-packed adventure travel game! GoKids Apps: Save Paris! launched today on iTunes by Fun Educational Apps, Ltd., setting a new standard in apps for kids by combining adventure game play, education and travel.
Save Paris! includes 10 different secret agent missions, a mini travel guide featuring pictures and information about Paris and a multiplayer setting for up to 4 players. Each level includes a "dossier" of facts that must be memorized before players can defeat the Gloopy alien army and save Paris through a series of challenging memory matching games and arcade-style games. Missions include: Paris sightseeing and famous landmarks, eating and dining vocabulary, French customs and traditions, colors, numbers and basic sayings and well known French individuals.
"In creating Save Paris!, I wanted to design a game for children where they can learn about a country and play at the same time," says Nathalie van Ee, owner of Fun Educational Apps Ltd, the developer of Save Paris! "I hope by giving kids such an app it will help them learn about a country and motivate them to discover further. The development of mobile technology offers tremendous potential for our kids to learn in a fun, interactive and dynamic way."
GoKids Apps: Save Paris! is Fun Educational Apps' first in a series of educational travel games for kids ages 7 and up.
The app is available for $3.99 in the iTunes App store at:
http://itunes.apple.com/us/app/gokids-apps-save-paris/id422580908?mt=8&ls=1
Special Introductory Price:
$ 1.99 – 2 days only Thursday 17 and Friday 18 March.
About Fun Educational Apps
Fun Educational Apps was established in 2010 as a review site to help parents, educators and teachers to discover great family apps. Together with kids, Fun Educational Apps tests a large selection of educational and game apps, including book apps, math apps, game apps, travel apps, fun apps and much more.
For more information, see http://gokidsapps.com
Follow us on Twitter and visit us on Facebook
###