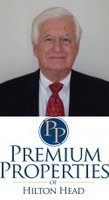 Hilton Head, SC (PRWEB) March 17, 2011
Premium Properties, a Hilton Head real estate company that represents buyers and sellers of properties for sale in and around Hilton Head, has named a new broker in charge. Jerry McElroy, who brings 33 years of experience in real estate, will oversees all real estate operations of the company and lead the office's real estate agents.
McElroy began his career in Conyers, Ga., where he served as president of the Rockdale Board of Realtors, as well as president of the North Georgia Broker Council. He's also served as controller and then sales manager for Prudential Hilton Head Properties and as general manager for both RE/MAX Island Realty and ERA Evergreen, both in Hilton Head.
McElroy holds numerous designations, including: CRS, CRB, ABR, ABRM, SRES, CFS and CPIS. In 2006, he was named Sales Manager of the year for the Carolina Region of RE/MAX. He lives in Hilton Head.
About Premium Properties of Hilton Head
Premium Properties of Hilton Head works with buyers, sellers and investors to market properties for sale and find buyers the right property for their needs. The company aims to maximize returns through economy of scale and the use of technology. Additionally, Premium Properties is able to leverage its partnership with Sunset Rentals, a vacation rental company in Hilton Head, to market properties to a broader audience, enabling them to achieve the highest buyer contact rate of any real estate company in the Lowcountry. For more information, call (877) 833-9393 or visit http://www.hiltonheadpremiumproperties.com.
###