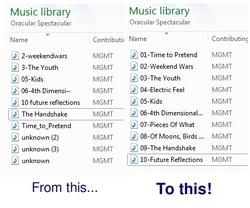 The most impressive aspect of Bliss is the way it runs in the background and therefore keeps your music library in check based on the rules you set
(PRWEB) March 22, 2011
elsten software have added the ability to automatically organise music files to bliss, the fully automatic music organiser. bliss automates the slow, manual task of fixing MP3 file paths with a simple rule that is set once.
Inconsistent file, folder and directory paths make it difficult to find, navigate and play digital audio from a computer's hard disk. Commonly, tracks may appear with names like 'Track-01.mp3' even though they have the correct metadata, known as tags, associated. This inconsistency and obfuscation makes it difficult to select music to play and also to choose MP3s to transfer to other devices. Furthermore, the ability to change tags for music files means file, folder and directory names can become inconsistent over time.
The traditional way to fix was to use a file explorer or renamer, such as Explorer on Windows or Finder on Mac. Music files may be selected, right click and renamed or cut and pasted to new locations, but this manual approach does not work well for large collections of hundreds or thousands of albums. The more music in a collection, the more error prone the manual approach becomes and the more effort it takes.
bliss's approach makes synchronising file paths with music tags effortless and very fast. bliss is rule based, so file organisation preferences are specified in a 'rule' once. A file organisation rule contains a pattern that all tracks must adhere to, for instance <artist name>/<album name>/<track number>-<track name>. bliss then assesses all albums in a music collection against the pattern. It can either suggest a fix or fix it automatically, depending on the rule configuration.
bliss is also general MP3 tagging software which can also be used as a album artwork finder to organise a music collection automatically. bliss assesses MP3s and other digital music according to these rules and fixes music that is non-compliant automatically. Automatic rule based music management is suited to large music collections that are too unwieldy to be organised manually. More rules are coming, such as auto-tagging and automatic genre categorisation of digital audio.
bliss is available for Windows, Mac OS X, Linux and VortexBox. bliss comes with 100 free fixes, which means file locations can be fixed for 100 albums. Further fixes require purchase of a top-up of 1000 fixes or an unlimited licence. Fixes can also be used for other rules, such as the album art rule, and continue to work for all future versions of bliss.
About elsten software: elsten software (http://www.elstensoftware.com) write tools to manage digital music collections. Their first product is bliss (http://www.blisshq.com) - a fully automatic rule based music organizer ideal for home servers. Contact Dan for more information: dan(at)elstensoftware(dot)com or telephone +44 (0)20 3397 1517
###