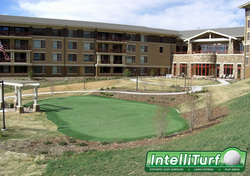 We are very pleased with the low-maintenance, appearance and playability of the system
Denver, CO (PRWEB) March 16, 2011
Water Wars wage every year in the western U.S. and Colorado is no different. A product that looks great year round, helps the environment and saves water was the attraction for Josh Crawford to the IntelliTurf synthetic grass business. A veteran of the construction industry all across Denver and the foothills, Mr. Crawford has seen many properties with water and grass issues.
Saving property owners and developers money while reducing emissions and water use all with a recyclable product was just part of the attraction. "Once we saw the installations and how natural they look and how even golf greens blend into properties such as a courtyard at a Senior Housing residence, I knew IntelliTurf was a company that has products the Denver area desperately needs," stated Crawford.
Crawford is not the only Denver area resident lauding the aspects of synthetic grass. Highlands Ranch upscale Assisted and Independent living community built by Hyatt originally called Classic Residence by Hyatt and now known as Vi installed a 5,000 square foot golf green in the main courtyard. "Classic Residence installed the IntelliTurf putting green system at our Denver area Highlands Ranch community. We are very pleased with the low-maintenance, appearance and playability of the system," offered Hyatt/Vi Project Director Adrian Bolders, a long time Denver resident.
Life Care Centers of America has locations around the Denver area and has worked with IntelliTurf all across the country. Their Aurora location houses a putting green in the main courtyard of the Independent Living residence.
Water savings without adding pressure to land fills at the end of the product's life cycle is a passion for IntelliTurf and the main motivation why the company was an industry leader a few years back by insisting all lawns, play areas and golf green products only use 100% - 1 step recyclable synthetic grasses. "Regardless which side of the fence you are on about global warming, the environment and green initiatives, we can all agree that saving water and recycling are positive endeavors," noted IntelliTurf Founder Stan Pennington. He went on to say, "the Denver area and all of Colorado fight the battle every year with water preservation no matter the accumulation of snow during the winter and we are ecstatic that IntelliTurf now has a full time presence in the area."
IntelliTurf is a supplier and installer of their products. They help business and individuals with consulting on the design and choosing one of their 50 styles of synthetic grasses. IntelliTurf has worked with landscape contractors, architects, landscape architects, general contractors, builders, developers and property managers on a variety of projects.
IntelliTurf began as a backyard putting green company in the late 1990's, today there are seven locations across the country that supply the marketplace with the 100% recyclable artificial grass for lawn replacements, playground surfaces, games like bocce ball and croquet for senior housing, multifamily, schools, churches and parks.
After two successful putting green installations in the Denver area and numerous inquires, IntelliTurf now has a full time presence to service the front range, foot hills and with a little notice, all of Colorado.
###