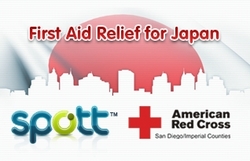 "We are so grateful for the partnership and generosity of Spott.com," said Andrea Waldron, Director of Development, American Red Cross - San Diego/Imperial Counties Chapter (SDARC)
San Diego, CA (PRWEB) March 17, 2011
San Diego, CA. March 14, 2011 – Spott.com, San Diego's newest daily deal site, is set to donate 100 percent of its deal proceeds this month to the American Red Cross – San Diego/Imperial Counties Chapter (SDARC). Half of these proceeds will assist in the relief efforts for those who have suffered from the recent earthquake and tsunami catastrophe in Japan, and half will stay in San Diego County to help residents prevent and prepare for emergency situations locally.
On Friday March 11th, 2011, an earthquake measuring up to 9.1 on the Richter scale struck off the coast of Japan, resulting in the largest tsunami Japan has ever seen. The natural disaster rendered 450,000 people homeless with 10,000 still missing. As aid workers and search and rescue teams from all nations persevere to locate survivors, over 91 countries and territories have offered assistance. Spott.com is one of the many companies that wants to do its part.
"We are so grateful for the partnership and generosity of Spott.com; every donation to SDARC, no matter the size, makes a difference," said Andrea Waldron, Managing Director of Development. "Without our donors, American Red Cross would not have the essential resources that help our neighbors get through their greatest times of need."
In addition to donating up to 50 percent of its proceeds to a weekly featured charity, the socially-conscious company makes it a priority to practice what it preaches. Since launching last month, Spott has been actively involved with community events including the Finish Chelsea's Run 5K supporting the Chelsea's Light Foundation scholarship program.
"Spott.com is proud of its ability as a company to spread awareness and raise funds for influential local foundations" said Spott CEO Maximilian Schwarz. "We are now honored to be able to have the same impact on a global scale."
Spott.com will be offering deals the entire month of March to support SDARC disaster relief. The SDARC responds to a disaster every 24 hours here in San Diego and are here to assist those affected by emergencies locally, nationally and internationally. Since all will be donated directly to the cause, Spott.com encourages all to help where they can.
 
About Spott.com
Spott is a daily deal site offering discounts of up to 90% off local entertainment, services and restaurants. The site, launched in San Diego and Los Angeles, CA in February 2011 donates up to 50 percent of its proceeds to sponsored charities. The actual amount they donate is dependent upon a unique sliding scale system that allows for higher donations with increased purchases. Learn more by visiting our website (http://www.Spott.com) or follow us on Facebook at (Facebook.com/spottdeals) and Twitter (Twitter.com/spottdeals)
For more information on how to sign up and any other questions and comments, please contact: ploy(at)spott(dot)com
###