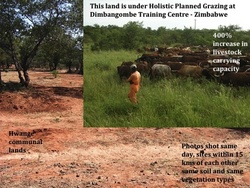 Our judges were captivated by this provocative, conversation-style ad, which reveals the little-known key to reversing a devastating environmental problem. TED
Albuquerque, NM (PRWEB) March 22, 2011
The Savory Institute is healing the land. They are turning deserts into thriving grasslands, restoring biodiversity, bringing streams, rivers and water sources back to life all while increasing food production and security and sequestering carbon in ever deeper and healthier soils.
"We need to get our message out to the world that there is hope." comments PR Director Laurie Benson. "We are continually looking for ways to get our message in front of those individuals and organizations that can help make a difference. We saw the TED Ad Challenge as an incredible opportunity to reach the masses and encourage them to engage in reversing the major environmental malfunction we are experiencing globally."
In their ad, Savory Institute engages this large audience to identify the top 20 influencers of our time to go to Dimbangombe Ranch in Zimbabwe and stand in waist high grass, where there used to be bare ground. To witness first hand the thriving river that had dried up over 30 years ago, and talk to the people who are no longer worried about floods or droughts because the soil beneath their feet is healthy.
The most incredible part of this story is that this management style is in practice on over 50 million acres worldwide and environmental damage is being reversed because of the use of cattle.
Over 50 years ago, Allan Savory realized that his homeland of Rhodesia was turning to desert at an alarming rate on the plots of land that had been fenced off from the vast herds of wild animals that roamed Africa.
From this observation he began to realize the many benefits the animals brought to the land through the impact of their hooves to the moisture provided by their mouths and the process taking place in their gut.
Savory went on to originate Holistic Management which uses cattle to mimic the vast herds that once roamed our planet. His method is healing the land which is absolutely crucial for ourselves and the future generations that will call this planet home.
With the intention of attracting individuals who can truly get their message to the world, the Savory Institute created their challenge for this coming September.
Benson added: "Our hope is that people not only engage in identifying the key individuals to come to Zimbabwe, but also help connect the Institute to these individuals and encourage them to engage with us."
###