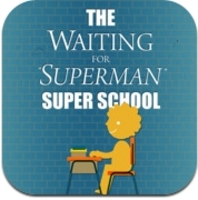 "We designed 'Super School' as an easy and straightforward way for parents, students, educators, and concerned citizens to join our Social Action Campaign for Waiting for 'Superman' and become part of the movement to improve the public education system."
Beverly Hills, CA (PRWEB) March 16, 2011
Participant Media, Paramount Home Entertainment, Expanded Apps, and Libros Publishing Group, announce the release of "Super School," an iPad application specifically created as an engagement tool for the Social Action Campaign for Waiting for "Superman".
Jim Berk, CEO of Participant Media said, "With mobile technology becoming more relevant every day, we designed 'Super School' as an easy and straightforward way for parents, students, educators, and concerned citizens to join our Social Action Campaign for Waiting for 'Superman' and become part of the movement to improve the public education system in America."
"Super School" takes users through five school periods in a virtual classroom, each of which informs them about the growing problems in the U.S. education system through short videos, articles, and even classic games like memory match and word search. "Super School" was created to have broad appeal for a diverse audience. While "Super School" enables older users to better understand the challenges facing America's failing schools and facilitates their involvement with the movement, even children can learn critical concepts about education by playing the app's fun minigames. As users consume content and learn about the issue, they earn points. When the player reaches 200 points, they can post a virtual school on their Facebook profile with a message that they care about education.
Other unique features in this app include the "Take Action" button, which connects to the many non-profit partners associated with the film that are working on the issue. Actions include the ability to instantly send a preformatted letter (which can be edited or tailored, if so desired) to their state congressperson or senator, to directly help a classroom via Donorschoose.org, to download instructions to host a DVD house party or to purchase the DVD and companion book, "Waiting for "Superman": How We Can Save America's Failing Public Schools" from PublicAffairs Books. With this app, it's never been easier to make a difference in a child's education.
Pricing and Availability
"Super School" is FREE for the iPad and available worldwide exclusively from the iTunes App Store in the Games section.
Called "an electrifying call to action" (Rolling Stone) and "one of the top 10 movies of 2010" (Time Magazine), Waiting for "Superman" depicts the moving and poignant struggles of real-life students and their families and the efforts of educators and reformers who are working to find viable solutions within a dysfunctional system. The film debuted on Blu-ray and DVD on February 15th and each disc includes a $25 credit that can be donated to any classroom project listed on DonorsChoose.org. In addition to the inspirational film, the Blu-ray and DVD feature four additional stories of real students and teachers, commentary by Davis Guggenheim and Lesley Chilcott, a conversation with Davis Guggenheim, the making of John Legend's original song "Shine", which recently won a Grammy for Best R&B song and was composed specifically for the film, a look at what's changed in education since the movie was filmed and more.
Waiting for "Superman" is a Paramount Pictures release of a Participant Media presentation in association with Walden Media. The film is written by Davis Guggenheim & Billy Kimball.
About Participant Media
Participant Media is an entertainment company that focuses on documentary and narrative feature films, television, publishing and digital content about the real issues that shape our lives. For each of its projects, Participant creates social action and advocacy programs to transform the impact of the media experience into individual and community action. Participant's online Social Action Network is TakePart (takepart.com). Founded by Chairman Jeff Skoll in 2004, Jim Berk serves as CEO and Ricky Strauss as President. Participant's films include The Kite Runner, Charlie Wilson's War, An Inconvenient Truth, Good Night, and Good Luck, , The Visitor, Food, Inc., The Cove, The Crazies, Countdown to Zero, Waiting for "Superman" and Fair Game.
About Paramount Home Entertainment
Paramount Home Entertainment (PHE) is part of Paramount Pictures Corporation (PPC), a global producer and distributor of filmed entertainment. PPC is a unit of Viacom (NYSE: VIA, VIA.B), a leading content company with prominent and respected film, television and digital entertainment brands. PHE is responsible for the sales, marketing and distribution of home entertainment products on behalf of various parties including: Paramount Pictures, Paramount Vantage, Paramount Classics, Insurge Pictures, Paramount Famous Productions, Nickelodeon, MTV, Comedy Central, CBS and PBS and for providing home entertainment fulfillment services for DreamWorks Animation Home Entertainment.
About Expanded Apps/Libros Group
Expanded Apps and Libros Group bring together decades of experience in the publishing and entertainment industries. Expanded Apps specializes in developing immersive, multimedia, interactive mobile applications for the Apple, Google Android, and Blackberry platforms. The company's expertise is in conceiving and developing custom applications that expand upon original content by adding functionality and other forms of media in a seamless, organic, and user-friendly way. Libros Group is a book packaging and production company that has produced hundreds of titles. Their broad range of work and vast expertise combine to make Libros an invaluable resource for clients who need expert content developers to produce mobile applications on a wide spectrum of topics—from health to business to entertainment, and everything in between.
###