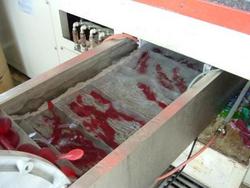 We've got the ability to make a beautiful product, a product that is dry, and the ability to make product 16 hours a day instead of eight.
Muskegon, MI (PRWEB) March 16, 2011
RADIUS was founded on the beautiful Caribbean island of Tortola. James O'Halloran and Kevin Foley were architects who were fascinated by the idea of a functional and enjoyable toothbrush. Radius is a company who is environmentally conscious; therefore, producing scrap when manufacturing toothbrushes was not acceptable. In their efforts to reduce their scrap levels, Foley discovered a conveyor system that would solve their challenge.
"We had about a 23% reject rate, and this is a multimillion dollar product for us," said Foley. "Then of course you have to regrind that plastic scrap and remake the product to keep up with orders."
Handles are molded two at a time using a two cavity mold that heats Tenite, a cellulose propionate plastic, to approximately 400 degrees Fahrenheit, after which they drop into a cooling tank. The tank uses water chilled to around 50 degrees to cool the handles before they are dried and sent for bristling. The chilled water causes the outside of the handle to cool quickly while the interior is still hot. Foley says there is a risk of the pieces falling into the tank on top of each other while still having a heated core, leading to dimples that render them unusable. To solve this, Radius uses an air bubbler that pushes the handles around after arriving in the tank.
Radius decided to replace the fiberglass tank with a stainless steel tank and conveyor system from Dynamic Conveyor, a Michigan-based manufacturer of modular conveyors. Foley, an architect by training, immediately recognized the flexibility provided by the DynaCon conveyor system.
Foley quickly recognized the benefits of modular plastic conveyor. "We broke our unit completely apart when we got it," said Foley, adding that they had to try several configurations at the onset due to the specialized nature of the challenge. "When we had to expand the lineal distance, we were able to add length and put it back together very easily. It's very cool."
Radius was able to cut their scrap rate down to 10% through experimenting with conveyor system length and speed. Then a brainstorm hit which allowed them to drop their reject rate even further. Vertical fins were placed on the conveyor belt, creating compartments that maintained separation between the handles as they fell into the cooling bath. Because Dynamic Conveyor uses modular plastic conveyor belts with a flush grid surface, Radius discovered they could use the bubbler to push pressurized air through the belt.
"By the time they settle down, they're sitting on the conveyor belt, not on another toothbrush," explained Foley. "This dropped our reject rate to about 1.5%."
Foley calculated the annual dollar amount saved by switching to modular conveyors to around $27,000. "Beyond that, we've got the ability to make a beautiful product, a product that is dry, and the ability to make product 16 hours a day instead of eight."
Modular plastic conveyor comes in a variety of widths, lengths, and accessory options. To see Dynamic Conveyor's product offerings, including an animation of a conveyor system assembly, visit http://www.dynamicconveyor.com or call (800) 640-6850.
###