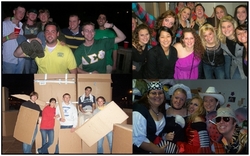 It is all about making it easy for students to share important dates and special occasions and also more usual day to day events such as intramurals, parties and other social events to participate in.
Rocky River, OH (PRWEB) March 22, 2011
ThisCollege.com (http://www.thiscollege.com) the fun, collaborative website where college attendees can share ideas, personal experiences, and digital photos has launched exclusively for college students. Students are encouraged to network with other students on their campus to find intramurals, parties, and other social events to participate in. ThisCollege.com is making it even easier to create a strong campus community.
Activity has taken off the last few days providing a variety of helpful web-based tools to stay up to date with college life. ThisCollege.com is about maximizing the college experience and building bridges amongst classmates with a direct connection to what is happening within a particular school. More than a general web resource, ThisCollege.Com is specialized to provide students with a level of privacy they won't find at alternative social networking sites. It's privileged, free, and really fun! Signups require an educational email address from a white listed college.
In this age of web 2.0, more conversations are happening online. ThisCollege.Com has opened up these conversations for one segment of the general public; university students of our world. Since the launch, hundreds have started conversing on everything from gathering recommendations to bringing out the best in various study groups.
Investigations in a number of academic fields has shown social networks operate on many levels, from families up to the level of nations, and play a critical role in determining the way problems are solved, organizations are run, and the degree to which individuals succeed in achieving their goals. ThisCollege.Com is in some sense charting its own path in the social network scene and is happy to give learners a new voice. Created to unite and build community within the Alma Mater, ThisCollege.Com has a singular focus; the bonding of the academic scholastic population without all the outside world interference.
# # #