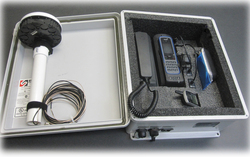 Morgan City, LA (PRWEB) March 17, 2011
Delta Wave Communications, LLC, a certified Beam distributor, is pleased to announce their new Inmarsat ISatPhone Pro flyway kit – the iFly.
Ideal for emergency relief and maritime applications, the iFly Industrial Package was designed for quick and easy deployment for global voice and e-mail connectivity. It is an enhanced turnkey package which incorporates Beam's ISatDock Pro, and external antenna which also incorporates GPS that is compatible with Inmarsat's "505" emergency alert service for marine applications. Recent independent comparisons of Inmarsat's new handheld service have compared very favorably with other handheld satellite units.
All is contained in a rugged NEMA enclosure with handle for ease of transport and quick installation in indoor or outdoor environments. A 30' coax cable set is Included, which should satisfy most installation requirements.
All connections pre-wired to TNC and SMA bulkhead connectors on the outside of the case for GPS location acquisition and access to Inmarsat's GSPS Network. The kit also includes a corded and cordless handset system that connects to the bulkheaded RJ11 port on the outside of the box. It is compatible with PBX or Key Systems. A cordless handset system is also included to offer increased versatility. The unit also supports a Bluetooth headset. The bulkheaded USB data port offers e-mail connectivity at speeds of up to 4.8kbps. It can be used in conjunction with enhanced e-mail packages such as Amos Connect or Skyfile, with up to 90% data compression. Additionally, a USB extender is included that allows the device to be located up to 150 ft. from the data connection via low loss Cat-5/5e/6 cable. Contact information may be synchronized with Microsoft Outlook. This complete plug and play package does not require technical expertise for installation. It is a cost-effective alternative to the basic ISatPhone Pro with Dock unit, as it saves installation time and material.
The IFLY has been recognized as a valuable accessory by Inmarsat and Beam Communications, as well as our own distribution channels and vendors. Beam has featured it in a recent newsletter, and Inmarsat has placed it on their market place web site. Delta Wave partners and distributors will also be featuring it at upcoming trade show events, such as SatCom 2011, the 2011 Governor's Hurricane Conference and OTC 2011.
About Delta Wave Communications, Inc.
Delta Wave Communications, Inc. (Delta Wave) is a mobile satellite service provider based out of Morgan City, LA. Products and services include Inmarsat®, Iridium®, asset tracking, and system integration. Founded in 1997, Delta Wave Communications, Inc. offer communications solutions for customers based in remote areas. Delta Wave is prepared to meet your mobile satellite communications requirements whatever the situation may call for — whether the requirement is emergency preparedness, remote field operations, or any other global application. For more information about Delta Wave Communications, Inc, please visit the company's web site at http://www.deltawavecomm.com.
###