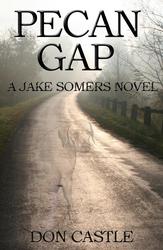 You really get swept up quickly in this enjoyable novel, as it is written with respect for the reader's intelligence.....
Sherwood, AR (PRWEB) March 17, 2011
Books-A-Million is now carrying the highly acclaimed mystery/suspense novel Pecan Gap by author Don Castle. Amazon.com, Barnes and Noble and numerous online booksellers also stock the book.
Books, Inc., the west coast oldest independent bookseller with multiple locations, now offers the book, as does Harvard Booksellers of Palm Beach Garden, Florida and The Paperback Shop in Elk Grove, Illinois. Check IndieBound.org for a list of other independents who inventory the book.
The "International Edition" is available in the UK from BooksToAnywhere.com, Stratford Books.com and AmazonUK. In New Delhi India, uRead.com also offers the "International Edition" in English.
Pecan Gap continues to garner high praise from both readers and professional reviewers alike.
From Shirley Johnson, Senior Reviewer, Midwest Book Review, "Basically this book has it all, great characters -good guys- bad guys, romance, murder and mystery, and family/friend commitment. That takes one exceptional writer to pull all that off. I highly recommend this book. It's a great read that will definitely keep you interested. Very, very well done! I was impressed!"
Nicole Henke, Reviewer, BTHM says, "It's hard to believe that this is Castle's first major book! It reads like 2 or 3 in a series, it is that well formed! In many ways it reminds me of the Spencer series by Robert Parker. Somers has the same coolness about him, yet is approachable and dedicated to those he loves. The book flowed easily from the big city and the fast pace to the small town and its ease. This is a quick read and both men and women will like it! It is the perfect read for those who love mysteries!"
Gary Sorkin, Senior Reviewer, Pacific Book Review added, "You really get swept up quickly in this enjoyable novel, as it is written with respect for the reader's intelligence and shows the intrinsic politeness of Don Castle's persona through his character of Jake Somers. Don Castle doesn't resort to foul language, violent scenes or over the top sexual innuendos, making this book ideal for young adult reading as well as the seasoned who-done-it fans. We hope to see more of Jake Somers' 'down to earth values' in future works as he has become a truly memorable character."
Additional reviews are available on request. For more information please visit the authors website at http://www.authordoncastle.com or email SDKmus(at)comcast(dot)net.
Title: Pecan Gap
A Jake Somers Novel
Author: Don Castle
ISBN: 1453726713
ISBN-13: 9781453726716
###