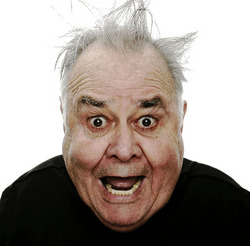 "If you look up comic genius in the dictionary there should be a picture of Jonathan Winters." – Howie Mandel
Los Angeles, CA (PRWEB) March 18, 2011
85-year-old Jonathan Winters, the grandfather of improv comedy and an inspiration for a generation of comedians, has never hosted Saturday Night Live. Sparked by this injustice and Betty White's successful Facebook campaign last year, the filmmakers of the new Jonathan Winters film Certifiably Jonathan have started a Facebook campaign to get Jonathan Winters to host SNL. In only three months, the Certifiably Jonathan Facebook page has amassed over 78,000 fans, a testament to Jonathan Winters' popularity.
The reason for Jonathan Winters to host Saturday Night Live is not only to create a hilarious, memorable episode, but to indulge his millions of fans who have been pining for him for so long, to introduce him to a whole new generation, and to honor him and his contributions to comedy for over six decades. This was also the inspiration for making the film Certifiably Jonathan.
Jonathan Winters first appeared on the national comedy scene in the early 1950's when he landed his first TV series on NBC. Winters made frequent appearances on The Tonight Show, leading Emmy Magazine to name him the show's "All-Time Number One Guest." His many film appearances including It's a Mad, Mad, Mad, Mad World and The Russians are Coming, The Russians are Coming firmly established his comedic brilliance and universally appreciated humor. After playing Mork & Mindy's child, the beloved comedian won an Emmy Award for Davis Rules, and he is the voice of Papa Smurf in the upcoming film adaptation of the hit animated television series The Smurfs. Additional accolades include a Grammy Award, a Golden Globe nomination and the Mark Twain Prize for American Humor.
About Certifiably Jonathan:
Certifiably Jonathan is a hybrid comedy/mockumentary that weaves in and out of the bipolar and surreal world of Jonathan Winters. Directed by Jim Pasternak and produced by Richard Marshall under their FilmDada banner, and Executive Produced by Matt Fortnow, Certifiably Jonathan is currently in limited theatrical release nationwide by Area 23a. In addition to Winters, the film also features appearances by comedy stars Sarah Silverman, Jimmy Kimmel, Nora Dunn, Howie Mandel, Tim Conway and many more iconic comedians. The film opens April 1st at the Laemmle Music Hall in Los Angeles, and will platform out to additional markets throughout April and May.
# # #