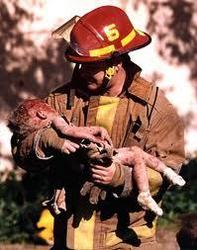 Greater love hath no man than this, that a man lay down his life for his friends. ~Bible, John 15:13
Lakeland, FL (PRWEB) March 21, 2011
Popular blog talk radio show host Hank Cares and Hank Loves You recently announced a new initiative for volunteer fire departments across the country to be able to get the money they need without accepting donations, contributions, or using fund raising companies where they are charged 50-60% of the funds raised. This effort is intended to provide as much as $100,000 annually for these unsung heroes to use for new equipment, training, and other expenses associated with their firefighting activities.
While volunteer fire departments typically receive tax support from the area in which they operate, many additional expenses are borne by the individual hero. These dedicated professionals provide search and rescue services that save lives; additionally, they are often asked to risk their lives in order to protect property and help others. Funding for these vital emergency services is always in short supply. Hank saw this need and committed himself to helping provide additional funds for compensation, search and rescue training, and medical expenses experienced by these selfless volunteers. Toward this end Hank produces a daily blog talk radio show to spotlight the challenges each of these hero firefighters faces as they work to save lives and protect property when an emergency arises.
Hank Cares is the result of a commitment by Hank to give 90% of his online earnings to God to help advance the gospel of the Lord Jesus Christ around the world. This commitment has led him to partner with Caboodle Inc. as an independent distributor in order to achieve his goals for this most worthy cause.
Caboodle Inc. is an innovative provider of internet social media management services that provides distribution opportunities to individuals as part of its overall marketing strategy. Hank chose Caboodle due to its wide selection of services and its potential for creating massive income for his charitable projects. By helping small to mid size businesses to grow and prosper through the programs in Caboodle and working with the volunteer fire departments by partnering with them, Hank expects to be able to perpetually bring in a minimum of $100,000 each year to benefit VFD activities and help them achieve their goals.
About Henry"Hank" Cohoon:
Hank has over twenty-five years of experience with the Department of Defense in shipbuilding, conversion and repair. He also has over five years as a Project Manager with a Master Ship Repair Contractor. Additionally, he served as area manager for a VFD fundraising concern for over ten years, during which time he developed a deep and abiding interest in the challenges and difficulties faced by firefighters during the course of their work. Hank's unshakable faith in God was put to the test when he experienced a serious accident that limited his ability to work outside the home. Since that time, he has devoted himself to serving God through his blog talk radio programs and his initiatives to advance the gospel of the Lord Jesus Christ for the glory of God.
Contact:
Henry "Hank" Cohoon, Host of Hank Cares and Hank Loves You
hankonfire(at)supportyourvolunteerfirefighters(dot)com
http://supportyourvolunteerfirefighters.com/
http://Jesusallinall.org/
http://caboodlefrenzy.biz/
http://caboodlefrenzy.com/
###
.