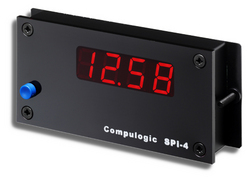 (PRWEB) March 18, 2011
The new web enabled smart process meter from Compulogic features an on-board web server providing unprecedented ease of configuration in addition to email alerts and full remote access.
Meter readings can be viewed remotely via a web browser and email alerts can be generated when readings exceed user programmed thresholds. Both XML and SNMP are also supported allowing configuration and remote reading using SNMP based network management systems. The sensor input is configurable for any range from 0-32mA or 0-10V e.g. 4-20mA, 0-20mA, 9-15mA, 5-8V etc.
Any given input range may be programmed to display any corresponding user unit range from -9999 to +9999, direct or reverse acting and with automatic and floating decimal point.
A front panel push button enables the value displayed on the large LED display to be selectable between transducer input value, user units value, min value, max value or % full scale. Any or all of the displayed values are available simultaneously and remotely in a web browser or NMS.
The product is housed in a compact, standard 1/8 DIN 48 X 96mm format, only 30mm deep and weighs just 150g.
Compulogic Ltd is an innovative UK based company, specialising in remote monitoring & control systems. We are committed to providing cost effective and timely solutions based on our standard products and bespoke designs.
For further information contact:
Bob Morris at Compulogic Ltd on +44 (0) 1788 510573
Email bob.morris(at)compulogic(dot)co(dot)uk
Web: http://www.compulogic.co.uk
###